The Fell Pony Society
Stallion Listings
Stallion Grading Scheme 2018
This grading scheme is FREE and VOLUNTARY and will not affect the current FPS stallion licensing rules.
Grading, during 2018, will take place at Newton Rigg, Penrith, Cumbria CA11 0AH on Sunday 15th April, 3pm – 4pm; and at the FPS Southern Show held at Berkshire College of Agriculture, Hall Place, Burchetts Green, Maidenhead SL6 6QR on Sunday 9th September. Other dates and venues will be arranged during June & July if you inform us that you wish your pony to be graded. We need to know by 15th May if we are to book a venue and arrange assessors for a date(s) in June or July.
Details of this year's scheme can be read here. 2018 Application form.
Stallion Listing Application Form [.pdf] [.doc]
Registered Fell Pony Stallions at Stud
UK - alphabetically by County
Overseas - alphabetically by Country
Stallions available by AI Only
Cornwall
Graysons Lucky Robbie FP50353C Licence Number FP208M s. Townend Duke III FP7001 d. Townend Dinkie III FP1451 f.1995 Black 13.2hh. Stud Fee: £120
Mares served in hand NO
Livery YES
Run with Stallion YES
Top quality Fell stallion. Broken to ride. Excellent temperament. Proven sire of champions. Winners of numerous championships including Fell Champion Royal Cornwall Show and Cuddy Reserve 2006
Mr C D Hall, Tredellans Farm, St. Just-in-Roseland, Truro, Cornwall 01872 580314 www.tredellansfarm.co.uk
Cumbria
Lunesdale Beckham FP51312C* Licence Number FP501 s. Rylstone Black Knight FP50148C* d. Lunesdale Rebecca FP2026 f. 2002 Black 13hh. Stud Fee: £200 plus keep
Mares served in hand YES
Livery YES
Run with Stallion NO
Beckham is a true stamp of a hillbred Fell Pony with superb bone and feather which he passes on to his progeny. He has a fantastic temperament. Beckham is bred from show winning stock and won numerous prizes himself in his younger days. Beckham has produced many good strong typey foals that are now having their own show ring success. Beckham is FIS clear.
Sue Mallinson. Nab House, Hardendale, Shap, Penrith, Cumbria. 07837 492593, email mallinson458@btinternet.com
or Craig Mallinson. Station Road, Shap, Penrith Cumbria. 07713 514621, email mallacrag@freeserve.co.uk
Reuben FP50906C Licence Number FP107H s. Lunesdale Mountain Mist FP716C d. Lownthwaite Treasure FP2259 f.1998 Grey 13.2hh. Stud fee £75, grass keep £10 per week.
Mares served in hand YES
Livery YES
Run with Stallion YES
Reuben is good natured and broken to drive.
Joyce King Tel:01229 716739 Thwaites, Millom, Cumbria
Derbyshire
Boutime Wooster FP71820C*, Licence no. FP720. Sire: Lunesdale Warlord, Dam: Darrenvale Katie. Foaled 2011. Black 13.1 1/2", Certified FIS clear. Stud fee £200.
Mares served in hand YES
Livery YES
Wooster is a top quality show winning stallion with excellent temperament, currently being broken to ride. He is a true to type young pony with good conformation, plentiful flat bone and silky feather.
Visitors are welcome, but please phone first.
Deborah Vychinski, Eaglets, Butts Road, Little Longstone, Bakewell, Derbyshire DE451NN. Tel: day 07817413897 / evening 01663740974. Email vychinskid@yahoo.com.

Dorset
Fairlawn Dominic, FP70729C*, Licence Number: FP514. S: Border Black Prince FP454C*, D: Lowmoat Rebecca, Registration Number: FP2195. F: 2006, Colour: Black. Height: 13.3 hh
Address where stallion is kept: Wimborne, Dorset
Mares will be served in hand YES
Livery is available for mares YES
Mares will run with the stallion NO
Dominic has an excellent temperament, plenty of bone, good action and tremendous presence. He has had a very successful showing career including silver medals and overall M&M Champion at The New Forest Show as a three year old. Dominic will be available for stud in 2016. For more info please call Phil on 0777 5723009 or Elaine 07806 893846.
Mr & Mrs P A Schwarzin, 4 Porter Road, Creekmoor, Poole, Dorset. E-mail: philandelaine40@yahoo.co.uk
12 Sept 2015
Lancashire
Lownthwaite Jimbo FP51183C Licence Number FP364 s.Waverhead Bobby FP50818C d. Lownthwaite Zodiac FP3023 f.2001 Black 13.2hh Stud Fee £100
Mares served in hand YES
Livery YES
Run with Stallion YES
An excellent pony who will have a go at anything. Has recently been cross-country, dressage, driving, showing.
Esme Hernon 077384 93007 Shaw, near Oldham, Lancashire
WELLBROW LEO FP50513C* Licence FP230N. S: Tebay Campbell Ton Victor 6614*, D: Heltondale Polly Perkins IV 18068. f. 1996, Black, 12.2 hh, Stud Fee £100
Mares served in hand YES
Livery YES
Run with Stallion YES
Leo has the best of temperaments, is brilliant to do in all ways, and is an excellent ride and drive. Stabled next to mares etc.

Kept at Marshalls Farm, Tarleton, Nr Preston.

Gary Richardson, 20 Moss Lane, Burscough, Nr Ormskirk, Lancashire L40 4AU
07539 541750

Carrock Rowan FP 70173C FP378 s. Lownthwaite Moonshadow FP50658G d. Sleddale Wild Rose III FP2929 f. 2003 Black 13.1hh Stud Fee £100 Exceptional manners which he will pass to his progeny, with fantastic conformation and looks. 2nd as a two year old colt at 2005 Fell Stallion and Colt Show. Lightly shown this year, but placed in ribbons every time. Broken to ride and showing great potential.
Mares served in hand YES
Livery YES
Run with Stallion YES
Mrs D Jones Crab Fold Farm, Eckersley Fold Lane, Howe Bridge, Atherton, Lancs M46 0RQ Tel: 07932946084, email: sales@gjflooringspecialists.co.uk
Leicestershire
Greenhead Alfred FP50466C* Licence Number FP218N s. Greenhead Peter FP796C* d. Greenhead Tess FP2301. f. 1995 Black 12.3hh. Stud Fee £100 + Keep. Alfie has a very good temperament, which he passes onto to his youngstock. Very good driving pony. Youngstock can be seen. Please call to view. Certified by the Animal Health Trust as free from any FIS mutation.
Mares served in hand YES
Livery YES
Run with Stallion YES
Lynne Chamberlain, Graceland Fell Ponies, 102 Church Hill Road, Mount Sorrell, Leicestershire. Tel:0116 2303493 e-mail: gracelandfells@hotmail.co.uk
Scotland
Nicholwalls Black Jack FP72033C* Licence: FP751, f. 2012
Sire: Bracklinn Jackpot FP71036C*, Dam: Bracklinn Black Beauty FP3664
Black, 13.2hh. Stud Fee: £500
Black Jack is a top quality Fell stallion, true to type, great conformation, plenty of bone, plenty of silky feather. Black Jack has proven his quality throughout his in-hand county level showing career. He was very successfully shown as a youngster. As a 3yr old colt, he had an amazing season, being placed in every Championship. Black Jack is now under saddle and making a fantastic appearance in the Ridden classes. Black Jack is full of character and has a big personality. Black Jack will be a potential HOYS competitor in the future. To follow Black Jack's results, please visit: nicholwalls fell pony stud on Facebook.
Mares served in hand YES
Livery YES
Run with Stallion NO
Contact Gwen Rae, 7 Barnwell Mews, 78 Causeway Road, Stirling, FK9 5HB. Tel. No: 07920 841772. Email: gwengry6@aol.com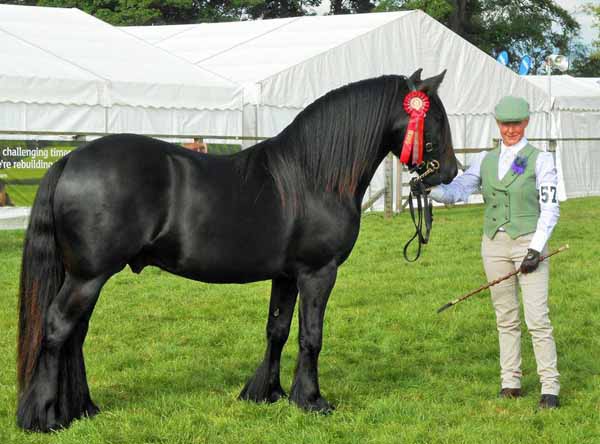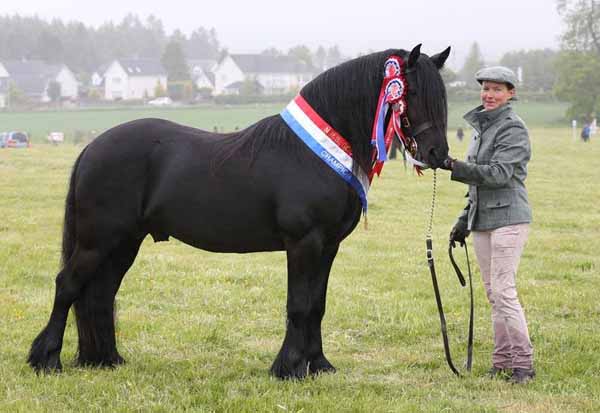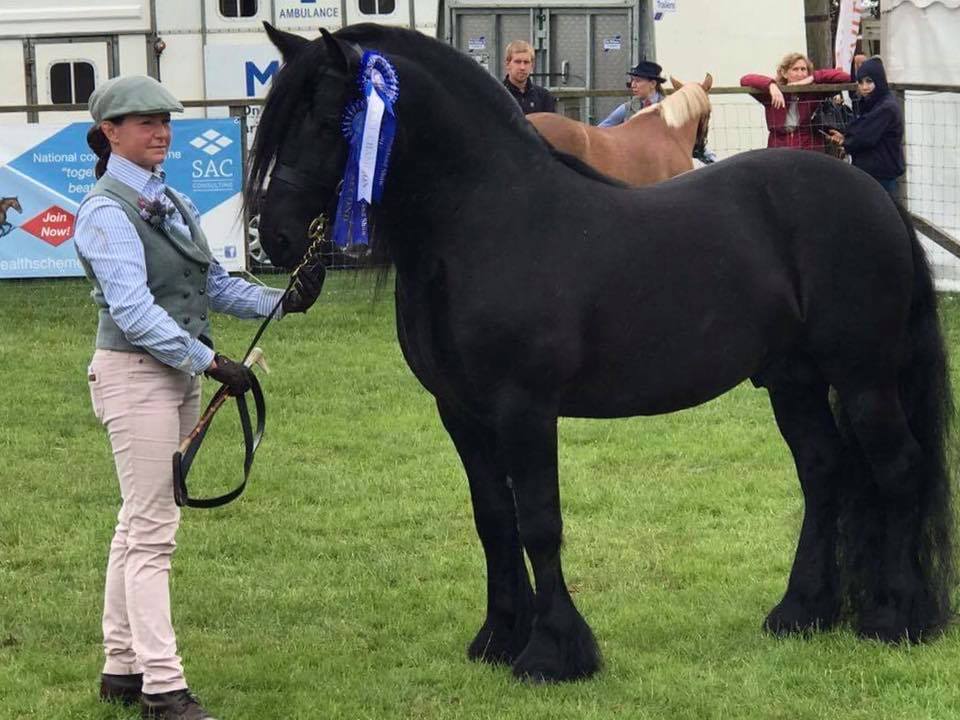 GREENHOLME EMBLEM, FP71700C* Licence: FP649, f. 08.06.10,
SIRE: Greenholme Look At Me
Dam: Greenholme Sasha
FIS CLEAR STALLION. Stud Fee: £500
Emblem has a great nature & has an impeccable temperament. True stamp of Fell Stallion. Lots of straight/silky feather, beautiful head, and most importantly has fantastic movement. Emblem competed throughout the season of 2015 in the ridden flat classes & was successfully placed everytime. In 2016, he then competed in some Novice working hunter classes & was placed Novice Champion successfully.
Now, 2017 Emblem has been competing in his 1st open season in the working hunter classes & has been successfully placed Champion in every class to date. Emblem competed in his 1st Royal International qualifier and winning his class & then placed Royal International Champion. He then competed in his 1st HOYS track and won his class & again was placed Champion at the Royal Highland Show. Emblem certainly is making his appearance in the working hunter section this year. He has an incredible jump, and most importantly he is so careful and very bold. Throughout this season Emblem has also been covering mares. He is a very special pony to our stud.
His progeny is also making a great appearance to the showing world, as 'Nicholwalls Firefly' 4yr old mare has lifted Fell Champion at Royal Windsor Show 2017. She has also lifted a few championships prior to being sold to her new owner.
To follow Emblem's results, please visit: nicholwalls fell pony stud on Facebook.
Mares served in hand YES
Livery YES
Run with Stallion YES
Contact Gwen Rae, 7 Barnwell Mews, 78 Causeway Road, Stirling, FK9 5HB. Tel. No: 07920 841772. Email: gwengry6@aol.com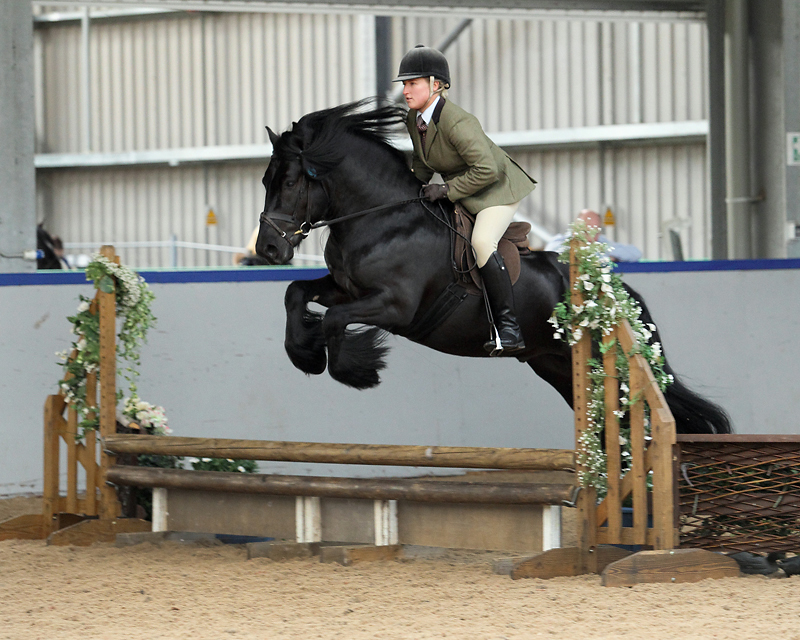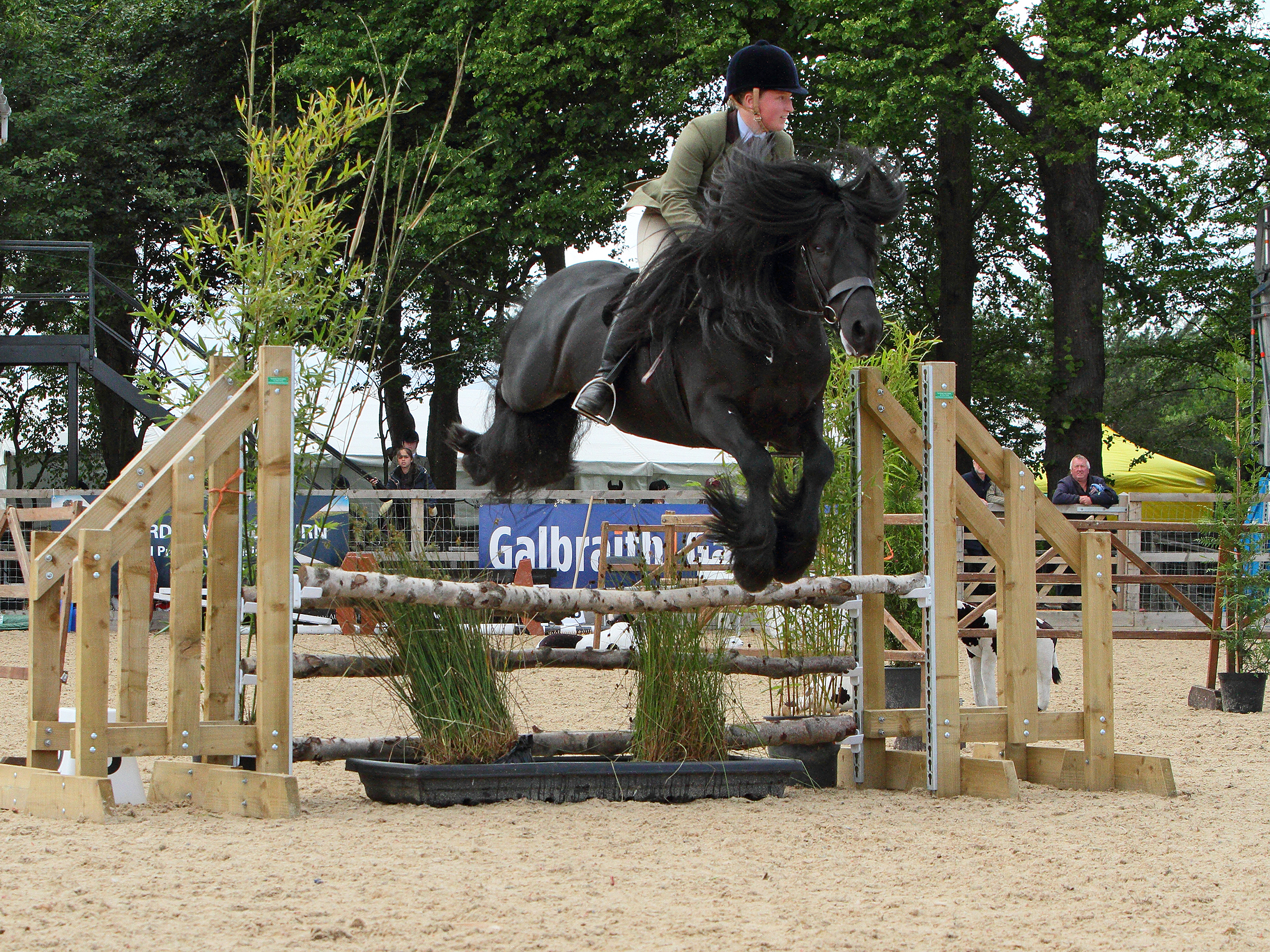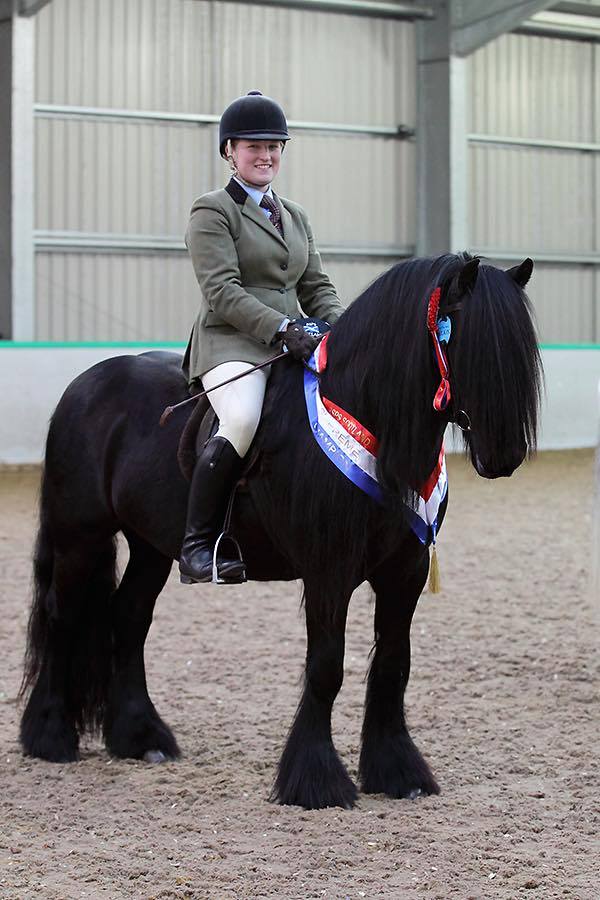 Germany
Townend Valiant Licence Number FP70802*, s.Castle Hill Bellman FP51137C*, d. Townend Truth FP1927 f.2006 Black 13.3hh Stud fee £200 + keep £10 per week.
A real pony type with superb, willing temperament that he is passing on to his progeny. His stock are now winning in the show ring. Supreme champion at Fell show in Germany. Only Fell stallion in Germany honoured with "Bundesprämie". FIS clear.
Mares served in hand YES
Livery YES
Run with Stallion YES
Breuerberg Fell Ponies, Mrs. Simone Albrecht, www.fellpony-hessen.de
Tel: 0049-6404-660721 S.Albrecht@fellpony-hessen.de
Lathomdale Romany FP70163 Licence Number FP70163C*, s. Linnel Riddler FP50520C, d. Lathomdale Lucy FP2176 f2003 Black 13.2hh. Stud Fee £100 + keep.
Romany has an outstanding Character and is always willing to please. He is a real Gentleman. Young stock can be seen. Has been shown once in Fell Show Oxford this year (ridden class). Did 3rd but no fault to himself.
Aylin Kay
Conkertree Stables
07766004330
The Netherlands
Goodshapes I Am Legend FP71876C* Lic No. FP681. Black, born 2011. FIS clear.
S: Lunesdale Mountain Mist FP716C*, D: Stennerskeugh Joanne FP2749*
He is broken to ride and drive and is a good character and easy to handle
Jan en Renate Koops
Fellponystal "Feanster"
Groningerstraat 122
9231 CR Surhuisterveen
Nederland
Contact telephone number 0031 6 2120480. E-mail fellponystalfeanster@hotmail.com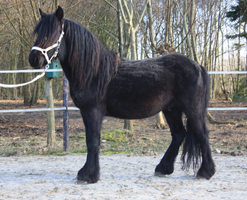 Stallions Available by A.I. Only
Berkshire
Townend Schubert FP71484C* Licence no FP639
Sire HELTONDALE BONZO BOY Reg No FP50115C*
Dam TOWNEND SHANDY Reg No FP3727
F: 2009. BLACK, 135CM.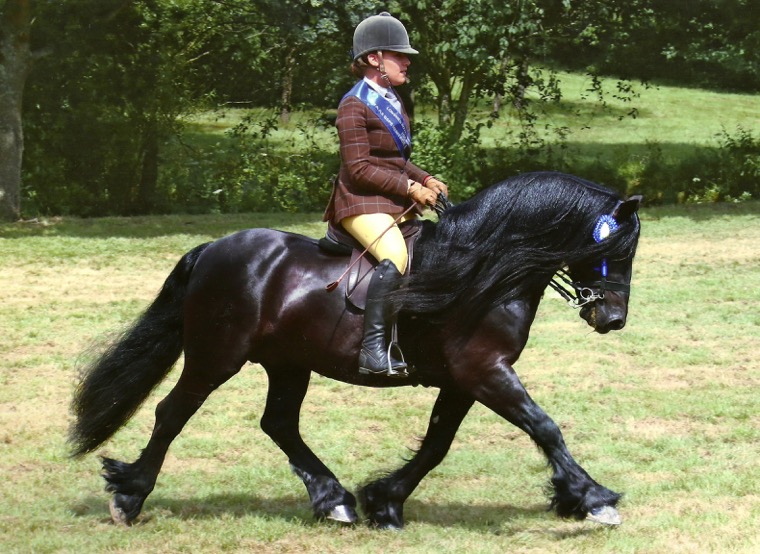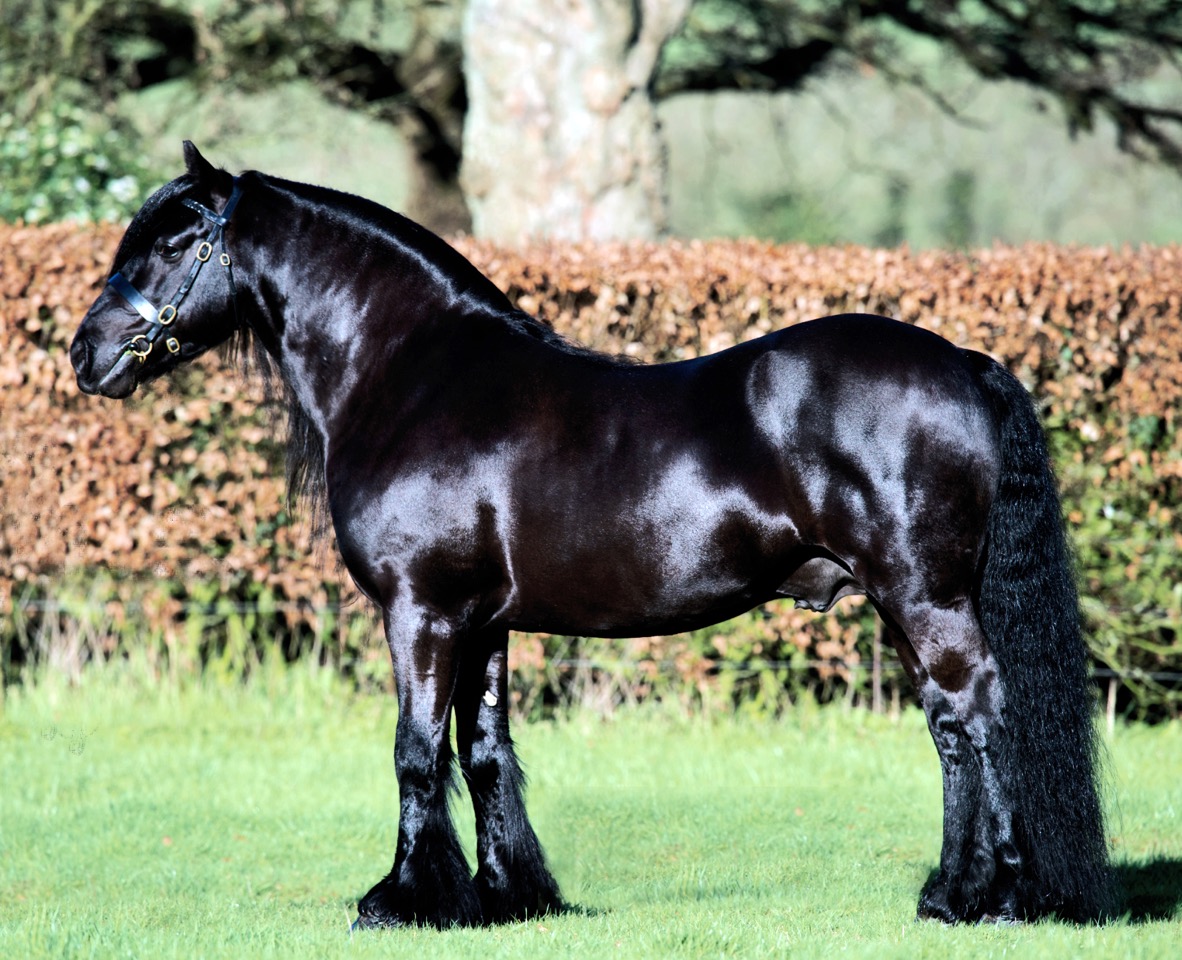 Stud Fee £500
Mares served in hand YES
Livery available for mares YES
Mares run with the stallion NO
Over the last 3 years Schubert has proven to be possibly the most prolific winning Fell Pony of all time, he has won countless championships at major county shows both in hand and under saddle, In 2016 Schubert performed on live TV as part of the HMQ90 celebrations at the Royal Windsor Horse Show and he was also awarded the show pony personality award at the annual showing world awards. He is currently the only Fell pony to have won all 3 major championships here in the UK. (RIHS, HOYS & Supreme Mountain & Moorland Olympia).
Schubert has a faultless temperament, handled regularly by children and is a delight to deal with on a day to day basis, this is an asset now proven to have been passed on to his first crop of foals who are now coming through as great ridden ponies.
Schubert is by the late Heltondale Bonzo Boy, a stallion who needs little introduction having been extremely influential in recent years, His dam Townend Shandy boasts the best of Fell pony bloodlines going back to the legendary Towned Flash II and Lunesdale Jerry.
Certified FIS Clear
**AI ONLY** Chilled / Frozen
MISS REBECCA PENNY
1 Antrobus Court, Hollins Lane Antrobus, Cheshire, CW9 6NL
Telephone number: 07817607838
E-mail: info@rebeccapenny.co.uk
Address where stallion is kept:
Follywood, Beedon Common, Newbury, Berks
Details: Available AI Only (UK & EU)
More details www.townendschubert.co.uk
Shropshire
Lunesdale Warlord FP70191C* Licence number FP544
S: Greenholme Warrior FP70490C*, D: Lunesdale Lady Rebecca FP3455
F: 2007. Black, 13.2. Stud Fee £400.
Mares served in hand: NO
Livery available for mares: YES
Mares run with stallion: NO
Twice crowned the FPS Stallion Show Supreme Champion, Warlord has also produced a Supreme Champion Stallion Show winner. Wonderful temperament and FIS clear.
**AI ONLY**
Stallion Owner: Mrs L Judd
Frozen semen Owner: Select Ponies International LLC
Address where semen is kept: Chapel Field Stud, Ash Lane, Whitchurch, Shropshire
E-mail: selectponies@dreamhayven.com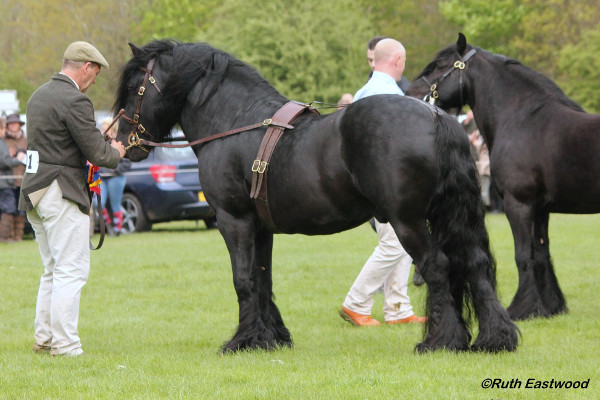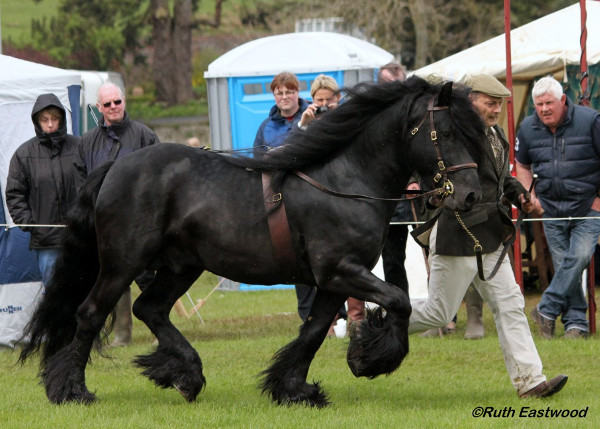 26 March 2018