The Fell Pony Society
Merchandise Sales
Please contact the office for details of available colours/sizes for clothing and picnicware. Some items are not held in stock.
Please give the office at least two weeks to fulfill an order, especially near Christmas.
Send order and cheques payable to The Fell Pony Society to:
The Secretary, The Fell Pony Society, Ion House, Great Asby, Appleby, Cumbria CA16 6HD Tel/Fax 01768353100.
All prices quoted for P&P (post and packing) above are for shipment within the UK. Different prices apply for shipments outside of the United Kingdom.
Hoodies

Hoodies


Rugby shirts

Polo shirts


Clothing - Hoodies, jackets, sweatshirts, polo shirts, rugby shirts.

Rugby shirts.
Cards, Books, Videos, CDs and DVD.

Full list of FPS merchandise
(.xls version)


Jackets


Sweatshirts

Mugs - both china and pottery. Stud Books and back copies of Newsletters/Magazines - Picnicware - Miscellaneous


Pens, pencils, badges, stickers.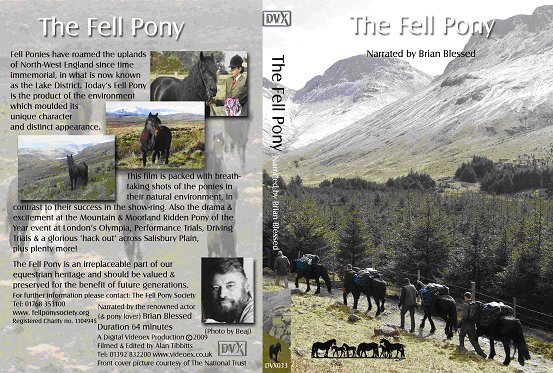 The Fell Pony Society's DVD features the ponies at home amid breath taking scenery on the fells in Cumbria. They are still bred here as they have been for hundreds of years, running on the ground that made them what they are today.
The DVD records interviews from some of the hill farmers who run the ponies on the open fells, in which they talk about the ponies and how they manage them and give an insight into why it is so important for the breed to hold onto the remaining hill herds.
The filming shows the versatility of this wonderful breed by following the ponies performing in some of the spheres in which they excel and features the Fell Pony Stallion Show, the Breed Show, the Performance trials, Lowther driving trials and the ridden finals at Olympia.
The DVD was filmed by Alan and Denise Tibbitts of DVX Productions with narration by Brian Blessed and together they have produced a DVD that will be of tremendous value to all with an interest in native ponies.
The DVD is available from the Fell Pony Society office at a cost of £15, plus £1.50 postage and packing for the UK and Europe, or £3 for the USA and Canada.
(Please see the Merchandise Price List for details of P&P)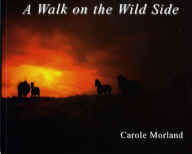 "A Walk on the Wild Side"
by Carole Morland.
Price £12.50. (Please see the Merchandise Price List for details of P&P)
The first book to have recorded the habits and interactions of a semi feral herd of Fell Ponies. The book has received excellent reviews.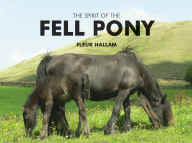 "The Spirit of the Fell Pony"
by Fleur Hallam
Published by Halsgrove and priced at £4.99 (Please see the Merchandise Price List for details of P&P)
This hardback book containing 64 pages of full colour photographs with captions celebrates these endearing and popular ponies through the superb photography of Fleur Hallam, captured in their native region.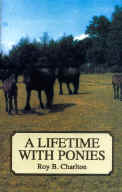 "A Lifetime With Ponies"
by
Roy B. Charlton
The Answer to presents for anyone interested in the Fell Pony. Reprint of Roy Charlton's Book Lifetime with Ponies which is full of Fell history with useful tips on ponies and handling which are just as true today as they were then.
£20.00 (Please see the Merchandise Price List for details of P&P)
Please contact Mary Longsdon
Tel/Fax 01629 640709 for details.
We now have available for sale from the office The Fell Pony Society History CD. This is a unique collection of cuttings and articles about Fell and Dales Ponies, founder members of the Fell Pony Society from 1913 onwards. Including many Travelling Stallion Cards,1919 Dispersal Sale Catalogue and many pages of interesting articles. £13.00 (Please see the Merchandise Price List for details of P&P)
System Requirements Windows 95 onwards PC CD ROM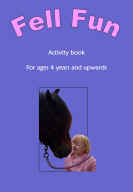 Fell Fun, for ages 4 to 7 years, offers early learning puzzles like spot the difference, colouring in, mazes, simple counting, starting letters, rhyming, matching, identifying colours, dot to dot, and identifying walk, trot and canter, even the dreaded cutting and sticking —all using pictures of Fells.
Christine said on seeing the draft copy, "I really enjoyed it, so did Wilson, we both were looking for colouring pens and doing dot to dot!"

20 pages, £2.00 (Please see the Merchandise Price List for details of P&P)
---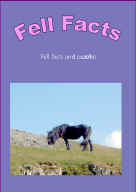 Fell Facts, for 7 years and upward, contains the Description of the Fell Pony and Scale of Points, a junior version of "About Fell Ponies", crosswords and wordsearches with a Fell theme, quizzes, a short story and lots of Fell photos.

20 pages, £2.00 (Please see the Merchandise Price List for details of P&P) Fell Facts and Fell Fun can be sent together for a single postage fee.