Menu
The Fell Pony Society
News
Important notices are generally headlined on the front page. We include information from other U.K. societies here when it is of interest to Fell pony owners.
2022 CENTENARY ANNOUNCEMENTS
Our plans to celebrate the Society's Centenary in 2022 will be posted on the Centenary page as they develop.
Also look out for information in the FPS Magazine and on our Facebook page.
EU Exports - Useful information post-Brexit
Export of Animals from Great Britain to European Union: Useful Information – Issue 2, 25 January 2021. 4 February 2021
Letter to BBC Winterwatch

I have to complain about how poorly researched your Winterwatch programme broadcast was on 20/01/21. Apparently Koniks (a reconstructed breed from Poland) are the only equines that can withstand the British climate and weather all year round. You also asserted that Koniks are the only breed with a waterproof coat! If this is the case how do you explain the existence of native British breeds surviving our climate for hundreds of years?
As Chairman of the Fell Pony Society I would like to invite you to visit some Fell Pony herds in Cumbria and film them in their natural habitat. You would soon see how one of hardiest native breeds could surpass Koniks in every way, and you would also be supporting a rare British pony.
Peter Boustead, FPS Chairman, 21 January 2021
Read the full text and the BBC Reply
Webinars: Using Science to Save Our Breeds (replay)...
Organised by the National Equine Forum, this webinar took place on Wednesday 13th January 2021. Speakers considered the magnitude of the decline of the UK's native breeds and how their future can be safeguarded. Those who didn't register for the webinar but would like to watch the replay can do so through the link on the NEF's Mailchimp page.
The webinar replay will be live until 23.59 GMT on Monday 1st February 2021.
... and the Great Weight Debate
The Great Weight Debate (Equine), a second special interest webinar, takes place at 7pm GMT on Wednesday 27th January 2021.
The equine obesity epidemic is ongoing – despite many attempts from industry to effect change. This webinar aims to explore different perspectives from across the equestrian sector regarding what is preventing owners/carers from managing horse, pony and donkey weight effectively, and how these may be overcome. The link to book is available lower down on the NEF's Mailchimp page.
Both webinars require booking through Eventbrite - £5 per person. 18 January 2021
BHS Advice re Covid-19 lockdown 2
Currently, providing Covid 19 protocols and social distancing are maintained, we know that:
** Horses may be ridden for exercise, including travelling to exercise
** You can travel to care and exercise a horse which you own or care for
** Coaches can continue to travel to work where they can't work from home
** Livery yards can remain open for horse owners, loaners and sharers to care for and exercise their horse/s
** Riding centres and schools may remain open and deliver formal education and training under the requirements of the legislation, and clients are permitted to travel to take part
** Farriery, veterinary, dentistry, physiotherapy and other equine practitioners can continue to operate
It has been confirmed that you cannot:
** Travel to a venue and pay to ride on the premises e.g. farm rides, arenas, cross country courses, gallops etc.
All venue hire should be suspended for the period of the lockdown. All advice and guidance is subject to change as and when government issues further details. Full details of the BHS document 11 November 2020
North West Auctions
J36 Crooklands Livestock Auction
Sale of Fell Ponies
Saturday 31st October
COVID 19 RESTRICTIONS
VENDORS
Once unloaded please park at the front of the building and enter through the main doors where a member of staff will sign you in.
Passports and a signed Transfer of Ownership form are to be left with Mart staff when unloading ponies.
One vendor only per consignment.
Vendors are to remain with your stock at all times and only come to the sale ring when your stock is being sold.
There is no entry for vendors to the Livestock Office.
Only 1 person per household is to attend the sale and strictly no children under 16.
BUYERS
Only buyers INVITED to attend are allowed in the Mart and all must ring the Mart to register to attend prior to the sale.
All buyers must enter via the main entrance and sign in on arrival.
Only ONE person per household can attend.
Strictly NO children under 16 can attend.
Face coverings are mandatory in the Mart.
Catalogue: http://www.nwauctions.co.uk/auctions/catalogues.aspx
For further details, to register an interest or to obtain a catalogue please contact:
NWA Junction 36 Crooklands
J36 Rural Auction Centre, Crooklands, Milnthorpe, Cumbria LA7 7FP.
Tel: 015395 66200 Fax: 015395 66221
Email info@nwauctions.co.uk
Website www.nwauctions.co.uk
office hours are 9am - 5pm Monday to Friday. 24 October 2020
UK Studbooks and Recognition by the EU post-Brexit
In February, DEFRA applied to the European Commission for 3rd Country Listing under the Zootechnical Regulation, which, if given, will enable the Breed Societies to continue trading on the same equivalent terms as they do now. It is hoped to reach an agreement before the end of the Transition Period (31 Dec 2020).
Exporting Ponies to the EU - Summary of Temporary Measures - PLEASE READ CAREFULLY
Until that agreement is reached and the studbooks are once again recognised, various temporary measures about exports are in force.
These measures are summarised and linked here for your information. This summary and its links to relevant Government and EU web pages will be found in the Autumn 2020 issue of the Magazine, correct up to today's date (14 October 2020). However, if you are planning to export ponies into an EU country PLEASE check the Gov.uk website regularly for the latest guidance as the law can and does change at short notice. We will update this page with any new information as we receive it.
14 Oct 2020
FPS sale on 31 October
North west Auctions have confirmed that the Fell pony sale will go ahead as planned on Saturday 31 October. If you are interested in attending as a buyer please check the website for details.
Catalogues will be available from North West Auctions in due course.
Enquiries: NWA tel 015395 66200. email info@nwauctions.co.uk.
www.nwauctions.co.uk 2 Oct 2020
FPS Merchandise Promotion October 2020
As the FPS Merchandise stand will not be at the Annual Sale on 31 October we are running a promotion, so that anyone who normally purchases goods at the sale won't miss out. Here is an opportunity to get your Christmas Shopping started.
The promotion will run from 26 October to 2 November 2020 and will apply to all orders received during this period.
The FPS will pay the first £5 postage on all orders received during the promotional period.
All payments for goods plus any postage above £5 must be paid prior to despatch of orders.
Please email your order or enquiry to secretaryfellponysociety@gmail.com Payments can be made by BACS.
Check the Merchandise page for the full list of items.
21 Sept 2020
FPS Sale
Vendor rules and COVID-19 precautions for the sale are displayed on the entry form, available here.
The rules set by NWA for buyers and sellers for the FPS sale to be held on 31 October 2020 can also be found at the NWA web site,
http://www.nwauctions.co.uk/auctions/sale-dates/2020/9/41535565/j36-registered-fell-pony-sale.aspx
Please be aware that:
The rules could change, possibly at short notice, so please keep an eye on the FPS and NWA website and facebook pages for the latest info.

The closing date for entries is strictly 1 October (foals should have been passported before 14 September).
Updated 15 September 2020
FPS Sale: lodge foal-passport applications by 14 September 2020
At this moment in time the date for the FPS sale is still in the diary for 31 October 2020, therefore if you are planning on entering foal(s) for the sale please remember the last date for lodging passport applications with the FPS is 14 September. This will be strictly adhered to, and any forms received after this date will mean that the entry(s) will not be accepted for the sale.
Of course if Covid - 19 restrictions change then the sale could be cancelled, and possibly at short notice. If the sale goes ahead then it will be run very differently to our normal sale. Please look out for information at the beginning of September. 13 August 2020
FIS Testing - update, August 2020
FIS testing is voluntary (unless applying for a stallion licence). An owner can therefore source a lab themselves or purchase a kit through the Society.
If purchased through the Society a vet must take the sample and check the identity of the pony by scanning the microchip and checking it against the passport. The result will be forwarded to the owner by the lab, via email, without the Society having sight of it. (An email address must be supplied on the sample packet for this purpose).
If an FIS test is done through another lab and then subsequently either an application is submitted for a stallion licence or the owner wishes to have the result recorded in the passport, then proof will be required – either sight of the certificate or confirmation from the relevant laboratory - that the pony has been tested. A letter will also be required from the vet who took the sample, confirming that the identity/microchip of the pony was also checked.
Following the closure of the Animal Health Trust, the Society will for the remainder of 2020, use Weatherbys Scientific for FIS testing.
The carrier test became available from 1 February 2010. Kits can be purchased from the FPS office by sending the payment, see Registration and Fees page. The hair sample must be taken by a vet who must also complete the form on the sample bag before sending it to the The Fell Pony Society in the envelope provided. The results of the test will be returned to the owner via email only.
Tests for sick foals (suspect FIS) should be arranged direct through the owners' vet.
The laboratory may already have archive samples from some ponies in their files (for example, if the pony has previously been DNA profiled.) It may be possible to use these existing samples for FIS testing if the sample was taken by a vet - please contact the office to enquire about this and they will liaise with the laboratory to establish whether or not this is possible. The usual fee still applies. 10 August 2020
Missing our Breed Show?
It would have been the FPS Breed Show on Sunday 2 August, where many of you would have visited the merchandise tent to purchase goodies. You can still order goods and we can send them out to you! Please check your magazine or the merchandise page on the website or send an email with your requirements.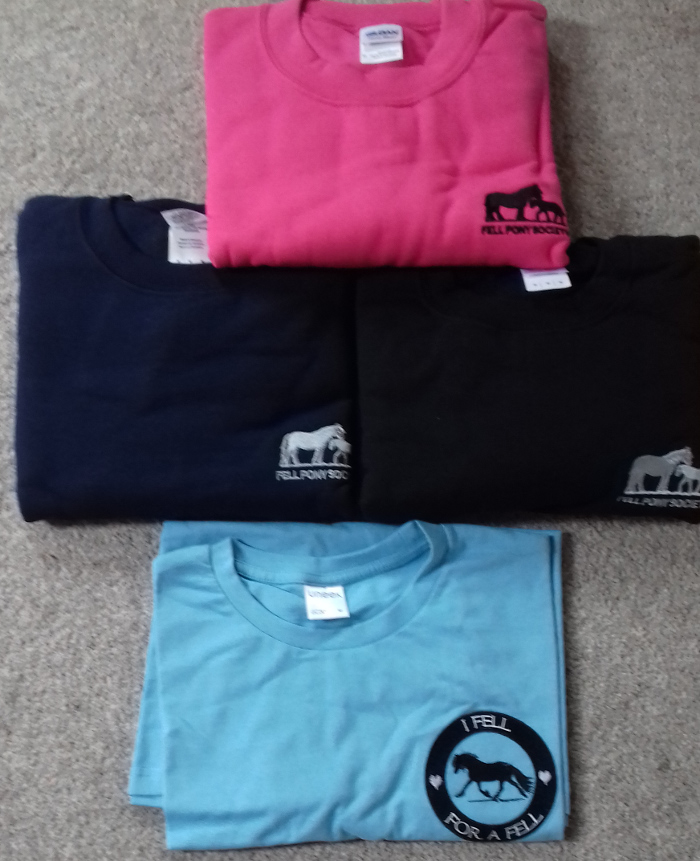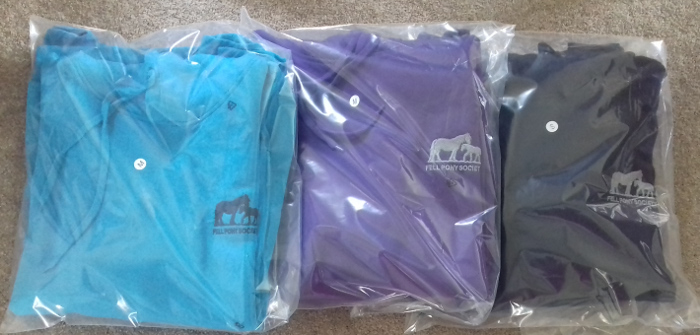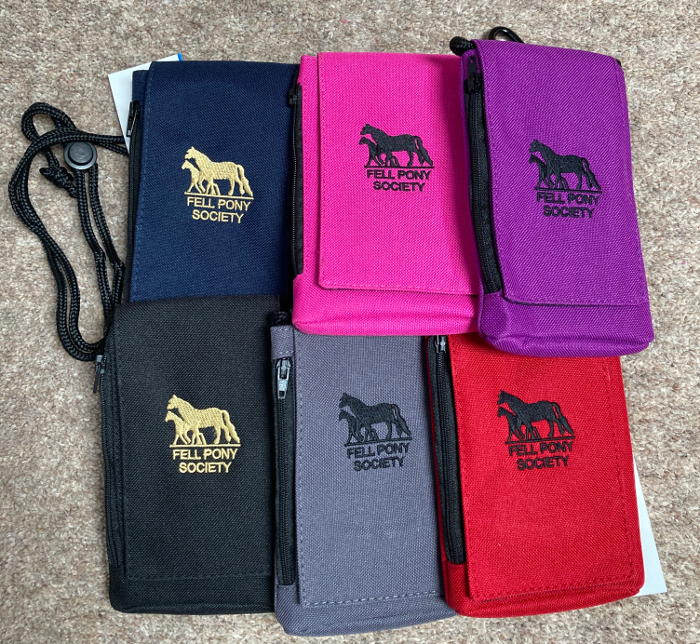 We can order in, if you require a particular colour or size.
We are carrying out all the usual Society business as normal, so please get in touch if you have any queries. Look forward to hearing from you. Thank you to all who have supported the FPS during this unprecedented time.
Katherine
31 July 2020
Filly Foal FIS test refund (2020 only)
Council have agreed the Youngstock and Performance awards, Stallion Show Colt Premiums and Breed Show Progeny premiums cannot be awarded this year due to the coronavirus situation. It has therefore been agreed that the surplus grant be used as a on- off offer to refund (or partially refund) the payment of the FIS test for filly foals born in 2020. Rules as follows:
The Society to offer either partial/full refund (maximum £40), depending on up take-up, for the FIS test of filly foals born in 2020.
Applicant to be a current FPS member and to be the owner who paid for the test initially.
Applicant in the UK only as grant rules only allow payments to those in the UK.
Application for refund to be made in writing or by email to the Society by no later than 31 December 2020.
Foal to which refund relates must have been registered / passport issued prior to application for refund.
Refunds only paid for FIS tests purchased through the Society.
The result of the FIS test to be recorded in the passport by the FPS Secretary, certificate to be produced, prior to refund being made. The result also to be recorded on the FPS database but the result will not be released to anyone unless the owner agrees. Agreement to be in writing.
Any queries, please email the FPS Secretary, secretaryfellponysociety@gmail.com or secretary@fellponysociety.org.uk.
22 July 2020
FPS Breed Shows Cancelled
Due to the pandemic, Council has regretfully decided to cancel the FPS Breed Show this year.
The Southern Show Committee are sadly also announcing that the decision has been made to cancel the FPS Southern Show.
The Society appreciates your continued support during these challenging times.
Peter Boustead, FPS Chairman. 9 July 2020
Animal Health Trust and Genetic Services to close
It is with sadness that we have received confirmation today that the Equine Genetic Services Department, at the Animal Health Trust, will close along with the rest of the Trust on the 31st July. Any samples that have been received up until Friday 3rd July 2020 will be processed and the results sent back to the FPS in the normal way, but any that the AHT receive at the lab from today (Monday 6th July 2020) will not be processed and will be posted back to the FPS.
If you have any queries about this please contact the FPS Secretary, email secretaryfellponysociety@gmail.com or secretary@fellponysociety.org.uk
6 July 2020
Memorandum & Articles of Association updated
As it was not possible to hold an AGM this year due to the coronavirus pandemic, Council agreed to approve the annual accounts for the year ending 31 October 2019 and to implement the proposed changes to the Memorandum & Articles. Council felt that as both the Accounts and the Memorandum & Articles had been circulated to members earlier in the year and no objections had been received then there would be no risk to the Society by doing so during this unprecedented situation. Council consulted the Charity Commission and followed their advice plus guidance found on their website. The updated M&A can be read here. 30 June 2020
FPS Sales list advertising
If you wish to advertise Fell Ponies for sale on the FPS website or place a Wanted Ad, THIS SERVICE IS FREE TO FPS MEMBERS.
http://www.fellponysociety.org/sales_list.htm
Each advertisement is shown for 3 months, after which time it will be reviewed.
Please submit details to the FPS Secretary by email: secretary@fellponysociety.org.uk
Non-members can advertise for the fee of £10 for 3 months.
Fell Pony related items such as carriages and saddles can also be advertised on the FPS website, subject to approval.
FPS members can flag ponies for sale on the FPS Online Stud Book Grassroots Database via the Manage Your Herd option.
Members need to give permission, if not already done, for potential buyers to see their address, phone number and email address. Please check with the FPS Secretary if you are unsure.
17 June 2020
Calendar 2022 - Call for Photos
Early call for photographs for the 2022 Fell Pony Society Calendar
This is a call for photos for the 2022 Fell Pony Society calendar. I have already seen some excellent photos of fell ponies this year on the different website pages. The deadline for submissions is Monday October 12th 2020. The rules are the same as before, with landscape images preferred over portrait images, though we are happy to accept a limited number of good portrait images.
Either digital or hard copy photographic prints can be submitted, remembering that digital images have to scale up to the calendar format at 11" x 7" and so have to be of high resolution (300dpi minimum).
Professionally taken photographs are eligible providing the photographer is prepared to waive copyright for their inclusion in the calendar. Remember that only two professional photographs can be selected by the judges and that such images cannot be included in the calendar competition. If you do submit a professionally taken photograph please make sure that you identify which photograph it is, together with a waiver statement from the photographer, when you send the image in.
If your photo is chosen for the 2022 FPS calendar the person that has taken the photograph will receive a free FPS calendar, with the overall winner receiving a £10 FPS voucher and the runner up a £5 voucher.
If hard copy prints are submitted they should be accompanied by a SAE if you would like them to be returned. Single digital images can be sent to the following e-mail:
or alternatively CDs and photographic prints can be mailed to Michael Goddard, 1 Priest Thorn, Fifehead Neville, Sturminster Newton, Dorset DT10 2AQ. Can I ask that you do not send more than three images per person and that if you are sending them via e-mail that you either send each image attached to a single e-mail i.e. three photos, three e-mails or alternatively send the images via a Drop Box. Please name your digital files with the name of the pony rather than the long digit file number recorded on your camera, as this makes recording and filing of your entry so much easier for me and for our Secretary.
Looking forward to receiving your entries showing off our most fantastic breed.
Thank you
Michael Goddard 13 June 2020

Animal Health Trust Update - May 2020
The Society is delighted to hear the news that the lab at the AHT is up and running again from this week for DNA typing and FIS testing. Please be patient, though, as samples may take a little longer to process than normal during the initial few weeks. If you have any queries please do not hesitate to contact the Society by email secretaryfellponysociety@gmail.com or secretary@fellponysociety.org.uk. You can read more at https://www.aht.org.uk/news/statement-from-the-animal-health-trust 28 May 2020
Chairman's Statement
Interim statement which would have been given at the 2020 Annual General Meeting.
2019 was a difficult year for the Society with registrations being slightly reduced and show entries lower due to the vaccination requirements introduced in response to equine flu. As a result we suffered a loss of approximately £3,000 on day to day finances. In January 2020 Council took the decision to increase the membership by £5. This is the first increase since 2004.
The problems of 2019 pale into insignificance compared to those currently caused by the coronavirus pandemic. This has resulted in the postponement of the Breed Show and the cancellation of the Stallion Show and the AGM. Consequently some have not renewed their membership. Please can you continue your support of the society in these difficult times.
The cancellation of the AGM has meant that those eligible for the various awards and rosettes were unable to be presented with them in person. My congratulations go to all of you and hopefully 2021 will bring continued success.
Stay safe.
Peter 21 May 2020
FPS membership fees will increase from 1st January 2021
Membership fees for all membership types will increase by £5 (by £10 for Family membership) from 1st January 2021. Fees for the year to 31st December 2020, however, remain the same. Full details are on the Membership page.
21 May 2020
British Equestrian Federation Update
The latest BEF guidance on equestrian-related activities during the COVID-19 pandemic. This link opens a document from the BEF, with links to further information: More >>> 21 May 2020
FIS (Foal Immunodeficiency Syndrome) Testing Update
FIS testing is voluntary (unless applying for a stallion licence). An owner can therefore source a lab themselves or purchase a kit through the Society.
If purchased through the Society a vet must take the sample and check the identity of the pony by scanning the microchip and checking it against the passport. The result will be forwarded to the owner without the Society having sight of it.
If an FIS test is done through another lab and then subsequently either an application is submitted for a stallion licence or the owner wishes to have the result recorded in the passport, then proof will be required – either sight of the certificate or confirmation from the relevant laboratory - that the pony has been tested. A letter will also be required from the vet who took the sample, confirming that the identity/microchip of the pony was also checked. More on the Health page >>> 20 May 2020
FPS Breed Show - update
The show, originally scheduled for 2 August, is now postponed until Saturday 26 September with a review of the situation at the beginning of July, when Council will decide (depending on government guidance at that time) whether the Breed Show will be cancelled for 2020 or if it can go ahead in September. Schedules will not be available before July. 18 May 2020
Questionnaire about who keeps and breeds rare equine breeds
Emily Windsor is a masters student at Hartpury University studying equine science. She has a particular interest in the breeding and conservation of rare equine breeds and is asking for data to help her research.
The initial study aims to investigate why the populations of some breeds have reduced to the point where they have become classified as rare. To determine how it might be possible to increase breeder numbers and therefore increase the population numbers of equine rare breeds, Emily would like to investigate who keeps and breeds them, and their motives for doing so.
Her questionnaire may be completed online, using this link: https://forms.gle/6kMoLDrCgWdYDi5n7. 12 May 2020
2020 Breeding Season – Travelling Mares and Stallions to Stud
Following further advice from the Rare Breeds Survival Trust concerning the effects that COVID 19 movement restrictions have on the 2020 breeding season for rare breed equines, the Society has produced a protocol and template forms for our breeders to use if they need to travel a mare to a stallion or a stallion to mares for covering during the current restrictions.
Use of this protocol and forms, while not mandatory, is strongly advised in order to comply with current government restrictions on curbing the spread of coronavirus and as evidence of a legitimate controlled journey by the transporter of the mare(s)/stallion if challenged by the authorities.
Download the form and letter and add your own details, print off and carry them with you, and when travelling with your ponies, follow the protocol.
Download Protocol | Download Transport Form | Download Template Transport Letter
All people involved in this protocol must be in good health (absence of clinical signs and with no temperature), not in-contact persons, or vulnerable people at risk.
At this time, if you cannot follow all of this protocol you should not be moving and transporting ponies for breeding purposes. Human health and NHS resources are the priority.
Government publication - full guidance on staying at home and away from others
4 May 2020
Temporary arrangements for FPS Stallion Licensing
Council have made a decision regarding FPS Stallion Licensing in view of the current restrictions due to the Coronavirus (Covid-19).
• It has been agreed that owners of colts should apply to the Society in the normal way, providing the name and registration number of the colt and the name and address of the vet who will carry out the inspection when restrictions have been lifted, together with the appropriate fee. (See Fees.)
• On receipt of the above by the FPS Office, a Temporary Restricted Stallion Licence will be issued, together with 5 Stallion Service slips, allowing the owner to cover a maximum of 5 mares, to be owned by the colt's owner only. The colt must not be used until the owner is in receipt of the Temporary Restricted Stallion Licence.
• The DNA & FIS paperwork and sample kits will not be issued to the owner and vet until restrictions have been lifted.
Once restrictions are lifted the owner must have the colt inspected by a vet as soon as is reasonably possible but no later than 31 December 2020 and, if it passes the inspection, samples must be taken by the vet at the same time for DNA typing and FIS testing.
At the time of veterinary inspection:
• If the colt passes the veterinary inspection and it is recommended that a licence should be issued, then the passport together with the Temporary Restricted Stallion Licence should be forwarded to the FPS office. On receipt of a satisfactory DNA report and confirmation of FIS testing, a Full Stallion Licence will be issued by the Society and, if time allows, normal covering can be resumed.
• If the colt does not pass the veterinary inspection, samples for DNA / FIS should not be taken and the sample kit packets should be returned intact to the Society for a refund. Any resulting foals from the mares covered under the Temporary Restricted Stallion Licence arrangement will be registered in Section X.
Please note this is a temporary arrangement to allow breeding to continue during these extraordinary circumstances, and the rules must be strictly adhered to. 7 April 2020
British Equestrian Federation - Further update
With news due any day from the Government on the continuation of the lockdown period, the BEF has sent a further update to the previous guidance (below) sent earlier this month.
The update contains links to important information from the British Equestrian Veterinary Association about keeping yourself and your vet safe from the virus during treatment of horses; a survey about the impact of COVID-19 on the equine industry; and guidance on transporting horses to and from France. 15 April 2020 More >>>
BEF Guidance on Vaccinations
All competitive disciplines under the BEF umbrella currently operate a requirement for an annual booster every 12 months after an initial course of two injections and the first booster injection. This will remain the case throughout 2020, which means that any horse who goes beyond their annual renewal date will be required to start again. The initial vaccination intervals for primary and booster vaccinations will also remain in place as normal. More >>>
Animal Health Trust imminent closure
The Animal Health Trust has been facing dire financial constraints for some time, and now with the economic implications of Covid-19, it is facing imminent closure.
It has been in existence for more than 75 years, and during that time, it has changed the lives of generations of horses, dogs, cats and their owners. It has been a massive support to the work of the FPS, notably with its DNA testing and FIS testing services.
Full statement on the AHT web site
They say that the best way you can help them is by helping to spread the word about why they are such a vital resource to animal welfare. Please help them tell their story by sharing this information on social media, in the hope that a wealthy individual, corporate or person of influence sees it and can help them. 28 March 2020
MIDLANDS WEST FELL PONY SUPPORT GROUP SHOW UPDATE
Unfortunately, due to current situation with the coronavirus, it is with great regret and sadness that MWSG will be postponing the Midlands West Fell Pony Support Group - Festival of Fells Show on the 3rd May 2020. At this stage, they are currently looking at running the show in August/September 2020. Once a date has been agreed with the venue they will be communicating the new date out to you all. They would like to thank everyone for their support and hope to see you all very soon. 24 March 2020
Annual General Meeting postponed
It is with regret that due to the current situation with Coronavirus (Covid-19) Council have agreed to postpone the FPS AGM scheduled for Saturday 4 April. Members will be notified in due course of the re-scheduled date. 19 March 2020
Stallion Show cancelled
Sadly due to the current situation with Coronavirus (Covid-19) Council have agreed to cancel (or possibly postpone) the FPS Stallion & Colt Show scheduled for Saturday 9 May. At this point in time the FPS Breed Show will go ahead on Sunday 2 August. 19 March 2020
Combined Native Pony Roadshow postponed
Due to public health concerns: these roadshows have been postponed until the autumn.
The Breed societies involved and organisers are in complete agreement that both roadshows will be postponed until the Autumn. These were organised for the enjoyment of our members/judges and enthusiasts - but let's enjoy and socialise another time. A provisional date for the Southern event is 18th October 2020. We will post updates as we receive them.
NORTHERN EVENT: postponed.
UNICORN CENTRE, Stanton Way, Hemlington, Middlesborough, TS8 9LX.
SOUTHERN EVENT: postponed.
UNICORN TRUST, Granary Cottage, Netherswell, Stow on the Wold, Cheltenham, GL54 1JZ.
Practical 30-minute sessions on each breed: Breed type, way of going in-hand and under saddle.
These are free events for judges, members and enthusiasts, but places must be pre-booked.
Poster info >>> 25 January 2020
RBST Agriculture Bill Briefing 2019
From Christopher Price, RBST CEO:
For the last 40 years the conservation of our native livestock and equines has been entirely thanks to the hard work of a few dedicated tenacious individuals. But the new Agriculture Bill will change all that. In future they will have some help from the Government.
This is something RBST has been pressing for for many months.
The aim of the Bill is to shift agricultural policy towards paying farmers for the various public benefits they provide, rather than paying them for simply owning land, as is the case with the Basic Payment Scheme (BPS), the current scheme for supporting farmers.
This only applies in England. The Scottish, Welsh and Northern Irish governments will be making their own decision, though RBST will be encouraging them to adopt a similar approach to England.
Most of the public benefits mentioned in the Agriculture Bill are environmental, such as improving water and soil quality or to mitigate and adapt to climate change.
The Scottish, Welsh and Northern Irish governments will be making their own decision, though RBST will be encouraging them to adopt a similar approach to England.
Most of the public benefits mentioned in the Agriculture Bill are environmental, such as improving water and soil quality or to mitigate and adapt to climate change. However, the list also allows the Government to pay for:
'conserving native livestock, native equines or genetic resources relating to any
such animal'
The explanatory notes to the Bill give an indication of the sort of things the money could be spent on:
'These measures could, for example, be used to incentivise farmers to invest in rearing rare and native breeds or species, because these genetic resources may offer a way to sustainably increase food production and/or improve our capacity to adapt to climate change or the emergence of new animal or plant diseases by providing a breadth of genetic traits. These powers could also be used to incentivise existing gene banks to safeguard UK native and rare breed genetics or to provide on farm measures to manage disease risks amongst populations of rare breed livestock.'
Full Briefing on RBST blog >>>
Full Briefing as a printable file >>> 22 January 2020
Deadlines for Breeders
· The current Equine Identification regulations require the applications for foal passports to arrive with the Society within 6 months of birth or 30 November whichever is the later. However in addition to the above, FPS regulations require applications to be received by no later than 31 December (irrespective of age) or the application will be treated as late and will require late registration fees and confirmation of the sire and dam by DNA. Double fees may also apply if applications are received during December.
· Service Books / notifications of coverings online must be notified by 31 December in the year of covering; if not, any resulting foal will have to be DNA typed to confirm the sire prior to registration.
When completing stallion service certificates please complete all the details fully, including full name and registration number of stallion and mare and full dates of covering to include at least month and year. Month on its own with no year is unacceptable. 20 November 2019
Highland, Fell, Dales and Exmoor Combined Native Roadshows 2020
Northern Event - 5th April, Unicorn Centre, Hemlington, Middlesbrough TS8 9LX
Southern Event - 10th May, Unicorn Trust, Stow on the Wold, Cheltenham, GL54 1JZ
Open to members, judges and enthusiasts