The Fell Pony Society
News
Important notices are generally headlined for a short time on the front page. We include information from other U.K. societies here when it is of interest to Fell pony owners.
2022 CENTENARY ANNOUNCEMENTS:
NEW PAGE
Our plans to celebrate the Society's Centenary in 2022 will be posted on the Centenary page as they develop.
Also look out for information in the FPS Magazine and on our Facebook page.
FPS Christmas Merchandise Promotion
There is still time to place orders for pre Christmas delivery. Any orders received before 30 November will be free P & P up to £4.00. We have lots of items in stock and can also order in colours and sizes of clothing to suit.
For further details see the FPS Merchandise page.
To order just send an email with your enquiry and we'll get back to you as soon as possible. Payments can be made by BACS or cheque.
16 November 2021
Updated Animal Health Regulation (AHR) Frequently Asked Questions
DEFRA have updated the Animal Health Regulation (AHR) frequently asked questions which are now available on the trader showcase site.
As a reminder the new AHR Export Health Certificates (EHCs) will need to be used from 15 January 2022 for goods moved to Northern Ireland or exported to the EU from GB. This includes EHCs for all products of animal origin, live animals, germinal products and composite products.
All existing and most of the new AHR EHCs are available and traders can decide which ones they wish to use until 15 January. A small number of new EHCs have been removed from EHC Online for now. This is because the EU will be amending some EHCs, and some are subject to ongoing discussions with the EU regarding GB's disease freedom status.
The EU have recently published a new EHC for the re-export of certain EU origin POAO to the EU. We are working to provide guidance on this certificate and make it available for use by GB exporters.
There is further information and guidance available from Defra's web site or by emailing traders@defra.gov.uk
(Trader Readiness Team, GB-EU Exports Delivery & GB-NI Directorate, Biosecurity, Borders and Trade Programme; Department for Environment, Food & Rural Affairs) 28 Sept 2021
The Centenary 2022 - Launch
We announce the launch of our centenary plans More>>>
Fell Pony Breeders Survey
With the FPS Centenary coming up next year, the Society's Conservation and Grazing Sub-Committee is seeking breeders' observations and experience re the grazing where you run your ponies.
We are asking all breeders to complete the survey - whether on the hill, on allotment / fell ground / intake, or on lowland grazing. More details on the Conservation page. >>> 10 Sept 2021
FPS Show and Sale
The FPS Annual Sale will be held on Saturday 30 October 2021 at J36 Rural Auction Centre, Crooklands LA7 7FP.
The Catalogue is available now.
The usual pre sale show will be held at 9.30am with the sale commencing at 11.00am. 1 Sept 2021
New Grassroots Online Registry
The new look Grassroots Online Registry replaces the old Pedeweb. The registry can be accessed from our website (links at the foot of the Home page) or direct at www.grassroots.co.uk/fell.html using your normal Breed Society Member No and password. It gives access to the whole Society database and allows you to 'Manage Your Animal Records'. >>> Full details 14 October 2021
Changes to Animal Health Certificates for Export
The EU is making changes to its laws through the EU Animal Health Regulations (AHR). The AHR mean that the Export Health Certificates (EHCs) used to export equines to the EU, and move them to Northern Ireland, will be changing from 21st August 2021. Among the changes previously communicated, these new certificates require the premises/establishment from which an equine is exported from to have a registration number issued by the Competent Authority.
To meet this requirement, equine establishments in England and Scotland are now able to seek a County Parish Holding (CPH) number from APHA by completing the attached application form, and sending it to Equine.Registration@apha.gov.uk. Please include the date of first export from your premises following 21 August, in the subject line of your email. The form will be available on Gov.UK in the very near future.
Equine keepers in Wales should register for a CPH through Manage My CPH on RPW Online (www.gov.wales/rural-payments-wales-rpw-online).
If a premises/establishment is already registered, and you know the CPH number, there is no need to reregister.
We encourage those exporting soon after 21st August to obtain a CPH number as soon as possible. If you are not exporting equines from your premises until later in the year, please consider delaying your application until one month before exportation to allow current resources to be used on generating CPH numbers for those who need them immediately.
Registration is voluntary, but unless the establishment has a registered CPH with APHA, or RPW for Welsh keepers, it will not be possible for an Official Veterinarian (OV) to certify a horse or other equine for export from GB to the EU or NI.
A copy of the Government document outlining the registration of premises is available here. You can contact EquineExportsCarlisle@apha.gov.uk if you have any additional questions on exporting requirements.6 August 2021
Breed Show 2021
Results are now up on the Show Results page 6 August 2021
Bybeck Dispersal Sale
Congratulations to Colin and Heather Roberts on the excellent results of their dispersal Sale on 24th July. While it is always sad to see a hill-going herd split up, the fact that every pony sold well, many realising a high price, shows how much these ponies are appreciated. We wish them all well and hope Colin and Heather will enjoy an easier life now. 25 July 2021
Important information for all who export live animals to the EU.
Animal Health Regulations (2021) See particularly pages 7 and 12.
Enquiries from EU owners and breeders
Please contact the FPS office by email, if you have any queries regarding the issue and updating of passports for Fell Ponies in the EU.

The FPS can continue to issue Stallion Licences for Fell Ponies in the EU
We can:
- accept FPS membership applications - for new EU members and renewals
- issue stallion service books and accept service details online for EU ponies who have already been issued with a FPS Stallion License
- issue FIS test kits to EU members
- issue DNA test kits to EU members
- issue prefix applications for EU members to register a prefix with the Central Prefix Register
Please be assured that we are still working very hard to support members and ponies within the EU.
Thanks
Katherine
14 Sept 2021
FPS has no connection with FPHT
As a result of a number of enquiries we would like to state that the Fell Pony Society has no connection with the Fell Pony Heritage Trust other than the founder is a member of the Society. None of the FPS Council are trustees of the Trust and although the FPS agrees with some of their objectives (which are identical to those of the FPS) the Society has no other connections. Hopefully this will clear up some of the confusion. 22 April 2021
RESULTS OF POSTAL VOTING – FPS AGM 2021
The results of the voting on various items on the Agenda.
163 Voting forms were returned by 10 April 2021.
Ordinary Resolution 1
Adoption of the minutes of the 2019 AGM as a true and accurate record. The majority voted in favour of the resolution with no votes against. 15 abstained.
Ordinary Resolution 2
Adoption of the Accounts for the financial year ending 31 October 2021.
The majority voted in favour of the resolution with no votes against. 12 abstained.
Ordinary Resolution 3
Appointment of Dodd & Co Accountants
The majority voted in favour of the resolution with no votes against. 7 abstained.
Election of President
The majority voted in favour of Mrs S C Morton.
Any Other Business
There were no questions submitted to be dealt with under 'Any Other Business'.
Katherine Wilkinson
Secretary, The Fell Pony Society
13 April 2021
Result of FPS Council Election 2021
The scrutineer advised that a total of 142 valid voting papers were returned, plus 2 spoilt papers.
Mrs S Millard, Mrs C Robinson, Mr A Thorpe and Mrs E Walker were successfully re-elected to Council.
Miss D Meikle was unsuccessful.
2 April 2021
RBST revises Watchlist
RBST has reviewed its methodology for compiling the Watchlist. The new approach compares effective population size with measures of inbreeding. This gives a more accurate reflection of a breed's true conservation status.
Historically, RBST has based the Watchlist on registered females. The concern was that, continuing to base RBST's conservation programme purely on them, without a consideration of the contribution of males, could result in inaccurate conclusions on the breed's status.
The new approach has now been applied to breed data from the last twenty years to better reflect longer term trends. Breeds are now either "Priority", "At Risk", or a "UK native breed" and the information is presented in a simple, colour-coded format.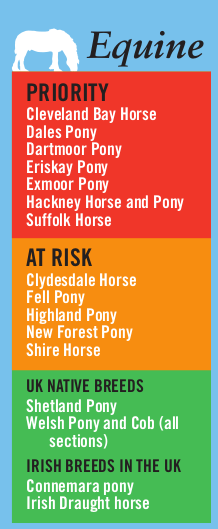 Priority breeds represent those breeds of most concern, which are both rare and have increased inbreeding.
At Risk breeds represent those breeds with lower numbers than ideal and with a degree of inbreeding that gives cause for concern.
The Fell Pony is in the RBST's At Risk category.
For full details see the RBST's web site. 7 April 2021
Job Vacancy - Dales Pony Society
The Dales Pony Society, a company limited by guarantee and a registered charity, is seeking to appoint an Honorary Secretary, reporting to the Chair of Council. Details available here >>> 10 March 2021
EU Exports - Useful information post-Brexit
Export of Animals from Great Britain to European Union: Useful Information – Issue 2, 25 January 2021. 4 February 2021
Membership Fees 2021 - please remember the fee increase
If you pay your membership by Standing Order or Bank Transfer on 1 January and you haven't updated the amount to the correct subscription fee for 2021, please send the balance, and update the Standing order for next year as soon as possible. (Check the amount here on the Membership page.)
Disappointingly very few payments have been updated so far.
We may not have time to send individual reminders as we will be concentrating on processing memberships for those who have sent the correct amount.
Until the balance is paid your membership will remain outstanding and you will not be entitled to the privileges of membership, reduced fees, voting etc.
We appreciate it is a difficult time for everyone and thank you for your continued support. Thank you to those members who have taken the time to update your Standing Order already: your cards will be issued in due course.
4 January 2021
BREXIT EXPORT UPDATE FROM 1 JANUARY 2021
All passports issued by Defra recognized studbooks are now recognized by the EU following Third Country listing (recognition) of the UK and its Defra approved equine Studbooks. The equine should also be registered in an equivalent breeding book in the EU.
For the movement of equines from Great Britain (GB) to Northern Ireland (NI) new measures and procedures come into force from 1 January 2021.
The official advice is not to try to export equines and their breeding products to the EU (or to Northern Ireland) until at least the end of January – due to the lack of import points and to possible delays at Customs. 18 December 2020
FPS membership fees will increase from 1st January 2021
Membership fees for all membership types will increase by £5 (by £10 for Family membership) from 1st January 2021. Fees for the year to 31st December 2020, however, remain the same. Full details are on the Membership page.
21 May 2020
British Equestrian Federation Update
The latest BEF guidance on equestrian-related activities during the COVID-19 pandemic. This link opens a document from the BEF, with links to further information: More >>> 21 May 2020
FIS (Foal Immunodeficiency Syndrome) Testing Update
FIS testing is voluntary (unless applying for a stallion licence). An owner can therefore source a lab themselves or purchase a kit through the Society.
If purchased through the Society a vet must take the sample and check the identity of the pony by scanning the microchip and checking it against the passport. The result will be forwarded to the owner by email without the Society having sight of it.
If an FIS test is done through another lab and then subsequently either an application is submitted for a stallion licence or the owner wishes to have the result recorded in the passport, then proof will be required – either sight of the certificate or confirmation from the relevant laboratory - that the pony has been tested. A letter will also be required from the vet who took the sample, confirming that the identity/microchip of the pony was also checked. More on the Health page >>> 20 May 2020
Breeding Season – Travelling Mares and Stallions to Stud
Following further advice from the Rare Breeds Survival Trust concerning the effects that COVID 19 movement restrictions have had on the 2020 breeding season for rare breed equines, the Society has produced a protocol and template forms for our breeders to use if they need to travel a mare to a stallion or a stallion to mares for covering during the current restrictions.
Use of this protocol and forms, while not mandatory, is strongly advised in order to comply with current government restrictions on curbing the spread of coronavirus and as evidence of a legitimate controlled journey by the transporter of the mare(s)/stallion if challenged by the authorities.
Download the form and letter and add your own details, print off and carry them with you, and when travelling with your ponies, follow the protocol.
Download Protocol | Download Transport Form | Download Template Transport Letter
All people involved in this protocol must be in good health (absence of clinical signs and with no temperature), not in-contact persons, or vulnerable people at risk.
At this time, if you cannot follow all of this protocol you should not be moving and transporting ponies for breeding purposes. Human health and NHS resources are the priority.
Government publication - full guidance on staying at home and away from others
4 May 2020
Temporary arrangements for FPS Stallion Licensing
Council have made a decision regarding FPS Stallion Licensing in view of the current restrictions due to the Coronavirus (Covid-19).
• It has been agreed that owners of colts should apply to the Society in the normal way, providing the name and registration number of the colt and the name and address of the vet who will carry out the inspection when restrictions have been lifted, together with the appropriate fee. (See Fees.)
• On receipt of the above by the FPS Office, a Temporary Restricted Stallion Licence will be issued, together with 5 Stallion Service slips, allowing the owner to cover a maximum of 5 mares, to be owned by the colt's owner only. The colt must not be used until the owner is in receipt of the Temporary Restricted Stallion Licence.
• The DNA & FIS paperwork and sample kits will not be issued to the owner and vet until restrictions have been lifted.
Once restrictions are lifted the owner must have the colt inspected by a vet as soon as is reasonably possible but no later than 31 December 2020 and, if it passes the inspection, samples must be taken by the vet at the same time for DNA typing and FIS testing.
At the time of veterinary inspection:
• If the colt passes the veterinary inspection and it is recommended that a licence should be issued, then the passport together with the Temporary Restricted Stallion Licence should be forwarded to the FPS office. On receipt of a satisfactory DNA report and confirmation of FIS testing, a Full Stallion Licence will be issued by the Society and, if time allows, normal covering can be resumed.
• If the colt does not pass the veterinary inspection, samples for DNA / FIS should not be taken and the sample kit packets should be returned intact to the Society for a refund. Any resulting foals from the mares covered under the Temporary Restricted Stallion Licence arrangement will be registered in Section X.
Please note this is a temporary arrangement to allow breeding to continue during these extraordinary circumstances, and the rules must be strictly adhered to. 7 April 2020
British Equestrian Federation - Further update
With news due any day from the Government on the continuation of the lockdown period, the BEF has sent a further update to the previous guidance (below) sent earlier this month.
The update contains links to important information from the British Equestrian Veterinary Association about keeping yourself and your vet safe from the virus during treatment of horses; a survey about the impact of COVID-19 on the equine industry; and guidance on transporting horses to and from France. 15 April 2020 More >>>
BEF Guidance on Vaccinations
All competitive disciplines under the BEF umbrella currently operate a requirement for an annual booster every 12 months after an initial course of two injections and the first booster injection. This will remain the case throughout 2020, which means that any horse who goes beyond their annual renewal date will be required to start again. The initial vaccination intervals for primary and booster vaccinations will also remain in place as normal. More >>>
Deadlines for Breeders
· The current Equine Identification regulations require the applications for foal passports to arrive with the Society within 6 months of birth or 30 November whichever is the later. However in addition to the above, FPS regulations require applications to be received by no later than 31 December (irrespective of age) or the application will be treated as late and will require late registration fees and confirmation of the sire and dam by DNA. Double fees may also apply if applications are received during December.
· Service Books / notifications of coverings online must be notified by 31 December in the year of covering; if not, any resulting foal will have to be DNA typed to confirm the sire prior to registration.
When completing stallion service certificates please complete all the details fully, including full name and registration number of stallion and mare and full dates of covering to include at least month and year. Month on its own with no year is unacceptable. 20 November 2019
MENU