Menu
The Fell Pony Society
News
Important notices are generally posted for a short while on the front page. We include information from other U.K. societies where it is of interest to Fell pony owners.
Deadlines for Breeders
· The current Equine Identification regulations require the applications for foal passports to arrive with the Society within 6 months of birth or 30 November whichever is the later. However in addition to the above, FPS regulations require applications to be received by no later than 31 December (irrespective of age) or the application will be treated as late and will require late registration fees and confirmation of the sire and dam by DNA. Double fees may also apply if applications are received during December.
· Service Books / notifications of coverings online must be notified by 31 December in the year of covering; if not, any resulting foal will have to be DNA typed to confirm the sire prior to registration.
When completing stallion service certificates please complete all the details fully, including full name and registration number of stallion and mare and full dates of covering to include at least month and year. Month on its own with no year is unacceptable. 20 November 2019
Highland, Fell, Dales and Exmoor Combined Native Roadshows 2020
Northern Event - 5th April, Unicorn Centre, Hemlington, Middlesbrough TS8 9LX
Southern Event - 10th May, Unicorn Trust, Stow on the Wold, Cheltenham, GL54 1JZ
Open to members, judges and enthusiasts
BRITISH CONNEMARA PONY SOCIETY EXTRAVAGANZA DAY
Sunday 22nd September 2019 - 10am – 4pm, at Moreton Morrell College, Warwickshire. Flatwork Clinic with Jayne Ross, Jumping Clinic with Yogi Breisner. Everyone welcome – Members and Non Members, Breeders, Judges, Competitors and Enthusiasts. £5 per Adult – includes free entry into the raffle. 11 Sept 2019 More >>>
The Fell Pony Society Probationer Judges Assessment day will be held on Sunday 13 October at Inglewood Equestrian Centre, Bowscar, Penrith, Cumbria CA11 8RP.
Potential candidates are asked to submit their application forms before 8th October (if not already done). Candidates will be asked to assess a selection of Fell ponies in hand and ridden with particular emphasis on breed type, correct conformation and movement of the Fell pony.
For more information and application please contact:
Judges committee Chairman Michael Goddard, michael.goddard2014gmail.com
Or
Judges committee Secretary Miss Jenny Charlton, fpsjudgessecretary@gmail.com 7 Sept 2019
Dufton Show accepting late entries
The Show has only a few ponies entered this year and would like to encourage late entries. They are following the vaccination guidelines for equine flu. Entries can be emailed to secretary@duftonshow.co.uk 19 August 2019
Breed Show 4 August 2019
EQUINE FLU VACCINATIONS
Following the Council meeting of 16th July it has been decided that ALL ponies attending the Breed Show must have a current vaccination certificate, the second or last vaccination to have been given before 27 July 2019.
Your pony's passport must be checked before your pony is unloaded. If all is in order you will be issued with a bridle / halter number which must be displayed on the pony when out of your vehicle.
If you have entered and your pony is not vaccinated please contact the FPS Secretary who will arrange a full refund of fees by 31 August.
Because of the time required to check passports it has been agreed that ponies will NOT be measured this year. 16 July 2019
Friends of the Lake District
Great Landscapes Week 2019
Events run every day from Saturday 3rd August to Friday 9th August to celebrate every aspect of our glorious landscapes.
https://www.friendsofthelakedistrict.org.uk/Events/glw-our-common-cause-farming-and-fell-ponies 30 July 2019
Calendar 2021
Early call for photographs for the 2021 Fell Pony Society Calendar.

This is a call for photos for the 2021 Fell Pony Society calendar. I have already seen some excellent photos of Fell ponies this year. The deadline for submissions remains Monday October 16th 2019. The rules are the same as before with landscape images preferred over portrait images though we are happy to accept a limited number of good portrait images.

Either digital or hard copy photographic prints can be submitted remembering that digital images have to scale up to the calendar format at 11" x 7" and so have to be of high resolution (300dpi minimum).

Professionally taken photographs are eligible providing the photographer is prepared to waive copyright for their inclusion in the calendar. Remember that only two professional photographs can be selected by the judges and that such images cannot be included in the calendar competition. If you do submit a professionally taken photograph please make sure that you identify which photograph it is, together with a waiver statement from the photographer, when you send the image in.

If hard copy prints are submitted they should be accompanied by a SAE if you would like them to be returned. Single digital images can be sent to the following e-mail: michael.goddard2014@gmail.com or alternatively CDs and photographic prints can be mailed to Michael Goddard, 1 Priest Thorn, Fifehead Neville, Sturminster Newton, Dorset DT10 2AQ Can I ask that you do not send more than three images per person and that if you are sending them via e-mail that you either send each image attached to a single e-mail i.e. three photos, three e-mails or alternatively send the images via a Drop Box.
Please name your digital files with the name of the pony rather than the long digit file number recorded on your camera as this makes recording and filing of your entry so much easier for me and for our Secretary.

Looking forward to receiving your entries showing off our most fantastic breed.
Thank you. Michael Goddard. 10 July 2019
Wildness Survey
David Murray has given the FPS a link to an equine Wildness Survey, for which he would appreciate your input. It is available at: http://equine-wildness.uk/questionnaire.html and your completed survey responses can be returned by email to equine-wildness@hotmail.com
The aims of the survey can be read in full on his web site, http://equine-wildness.uk/survey-aim.html 2 July 2019
Breed Show Entries & Flu update
Breed Show entries close Saturday 6 July with double fees to 13 July. Schedule and Entry form are available to download from the Events page. Please look out on Facebook and here for the latest information regarding vaccination for Equine Flu.
The situation regarding vaccination at the Breed Show is currently that:
* It is recommended that ponies exhibited at the FPS Breed Show on 4 August are vaccinated for Equine Flu, but vaccination as a condition of entry will not be required.
* Council will discuss the above when they next meet on 16 July. If the decision is made to make vaccination compulsory then entry fees for those unvaccinated ponies will be refunded in full.
1 July 2019.
Sponsorship at the Breed Show
If you are interested in Sponsoring at the FPS Breed Show, please get in touch with either Katherine secretary@fellponysociety.org.uk or Judy
fpsshowsecretary@hotmail.com
Details available here >>>
All payments must be received by 6 July 2019.
Thank You. 25 June 2016
PEAHILL BASIL VETERAN FELL PONY ANNUAL AWARD
Presented by Cath Wrigley in memory of Peahill Basil
To be awarded internationally to a single registered Fell Pony, for achievements as a veteran 15 years +.
The trophy will be presented annually at the AGM, to be held for one year. Participating members must apply to the FPS Office in writing to include a paragraph stating why they think they should win the prize, and to include a photo(s), no more than 3. (The points award form should not be used to apply.) Applications need not necessarily involve showing but can be other experiences, and the 'achievement' need not necessarily be in the current year. All ponies must be registered Fell Ponies and the owner must be a member of The Fell Pony Society, of the Netherlands Fell Pony Society, or of an FPS-recognised Overseas Branch. It has been agreed that nominations for this award can also be made by third parties. If you think the achievements of a veteran pony should be recognised please send your nomination as above to the FPS Secretary before 31st December. This can be by post or email. 12 June 2019
HorseScotland Member Body Support Programme
The Member Body Support Programme allows Full and Club Member Bodies to apply to horsescotland for funding for a variety of different projects. Application info >>> 29 May 2019
Photography - request
We have received a message from Cécile Zahorka who wants to take photographs of Fell ponies:
From: Cécile Zahorka - Fell Pony — photographic project "Forgotten Horses"
Dear Ladies and Gentlemen,
My name is Cécile Zahorka and I'm a free photographer from Germany. In the past year I have been working on a project called "Forgotten Horses", where I photograph and document rare and endangered horse breeds. We have a similar society to the RBST in Germany regarding animal breeds with endangered populations and I have been working together with breeders and owners. I have planned to make a journey to UK for this project, with the mission to find and document native British breeds, such as the Fell Pony.
I'm looking for passionates, breeders, owners this breed, which I could contact and visit during my journey.
It is my aim to portrait the breed in its traditional context and in typical landscapes, in front of barns or whatever the surroundings offer and fit to the horse, to make high quality pictures for all media and raise awareness to the matter.
I would be very happy if you would be interested in having a session with me.
I have set up a small site with all details to my journey and project: https://thepixelnomad.com/uk-june-2019/
Please feel free to share this with potential owners and breeders that might be interested.
I would love to give the Fell Pony a platform and raise awareness to its vulnerable status.
and you can see my
work on http://instagram.com/vor.die.linse/
or on http://facebook.com/vor.die.Linse/
Help and Support is very appreciated,
With kind regards from Germany

Cécile Zahorka
(WhatsApp on +49 163 2881115) 29 May 2019
Study - research request
Lucy Allen, a Research student at the Royal Agricultural University, is looking for hair samples and pedigree information from males of native UK Equines breeds as part of a wider study on the spread of horses in Europe. See flyer.
If you can help, please contact Lucy direct on 07901774538 or Lucy.Allen@student.rau.ac.uk 16 May 2019
SOUTH CUMBRIA SHOW 9 June 2019
The venue of the South Cumbria Show (Westmorland County Show Ground) is this year requiring all equines to be flu vaccinated. Please could you let us know if this will affect you entering the show. You can comment by emailing secretary@fellponysociety.org.uk with your views. Responses welcome (positive or negative) by 11 May to enable the organisers to decide whether to go ahead with preparations for this year's show or to cancel. Many thanks. 2 May 2019
Updated guidance relating to the movement of equines
https://www.gov.uk/guidance/export-horses-and-ponies-special-rules
Please contact EquineExportsCarlisle@apha.gov.uk if you have any questions about the information on Gov.uk.
24 April 2019
The Fell Pony Society Probationer Judges Assessment day
will be held on Sunday 13 October at Inglewood Equestrian Centre, Bowscar, Penrith, Cumbria CA11 8RP.
Potential candidates are asked to submit their application forms before 1st October (if not already done). Candidates will be asked to assess a selection of Fell ponies in hand and ridden with particular emphasis on breed type, correct conformation and
movement of the Fell pony.
For more information and application please contact:
Judges committee Chairman
Michael Goddard
g.michaelrichard@yahoo.com
Or
Judges committee Secretary
Miss Jenny Charlton
fpsjudgessecretary@gmail.com
18 April 2019
The National Pony Society (NPS) Bi-annual Assessment Day
will be held on Sunday 22nd September 2019 at the Stanley Grange Stud, North Yorkshire, TS9 6QD by kind permission of Mr Jerome Harforth. The Assessment Day is open to the first thirty applications on a first come, first served basis; if applications warrant, there will be a waiting list.
You can apply for:
Riding Pony & Hunter Pony Panel
or
Mountain & Moorland Panel
For an Application Form and Guidance Notes please refer to the NPS website:
http://www.nationalponysociety.com/assessment-scheme/
Applications for this will close on Friday 16th August 2019.
18 April 2019
Learning With Fells 2019
The Society will consider applications from adult as well as junior members. Priority will be given to those aged 10 – 18 years of age. It is hoped that sufficient numbers will come forward for visits to 2/3 studs involved this year.
If any members of the Society would like to take part, please can they contact the office by 30 April 2019. Email secretary@fellponysociety.org.uk
There is a bursary, payable from the Mary & Henderson Dodd Memorial Fund, of £50 for each participant to assist with travelling expenses, provided at least two visits are attended. 10 April 2019
Latest RBST Watchlist shows resilience of native breed livestock sector
A decade on from the last recession, Britain's native livestock breeds are proving resilient in the face of economic challenge.
The main exceptions in the 2019 Watchlist, the RBST says, are some horse breeds, especially the iconic heavy horses; Suffolks, Shires and Clydesdales, amongst the hardest hit by the recession, with many breeders calling a halt when the market for youngstock fell dramatically.
The Fell Pony remains in the "Vulnerable" Category. Read more >>> :: RBST Watchlist >>> 8 April 2019
Equine Viral Arteritis
We have been asked to pass this information on to members and breeders.
The British Equestrian Federation (BEF) notes (1) the recent positive cases of Equine Viral Arteritis that have been diagnosed in 2 non-thoroughbred stallions at a premises in Dorset. The BEF will monitor this situation closely and it is important to note that there is no threat to public health.
The UK's Chief Veterinary Officer has confirmed that restrictions on breeding have been put in place to limit the risk of the disease spreading. An investigation is now underway to determine the source and possible spread of the infection.
Equine owners can help prevent the disease spreading by following best practice (2) in horse health and hygiene on their premises. Owners of mares and stallions are also urged to have their animals tested before they are used for breeding.
(1)
https://www.gov.uk/government/news/equine-viral-arteritis-confirmed-in-dorset
(2) https://codes.hblb.org.uk/index.php/page/53
Update on Equine Flu vaccinations re FPS Stallion & Colt Show
The FPS Council agreed, when they met recently, the following recommendation in relation to exhibitors at the FPS Stallion and Colt Show, 11 May 2019.

It is recommended that ponies travelling to shows are vaccinated for Equine Flu, but vaccination as a condition of entry will not be required.

Please note that although there has just been one case in Cumbria to date, should there be any further outbreaks the above will have to be reviewed. 27 March 2019
Caution - fake emails
Do NOT respond to any message like this one which you may receive by email that purports to be from the Secretary (or President, or any other officials).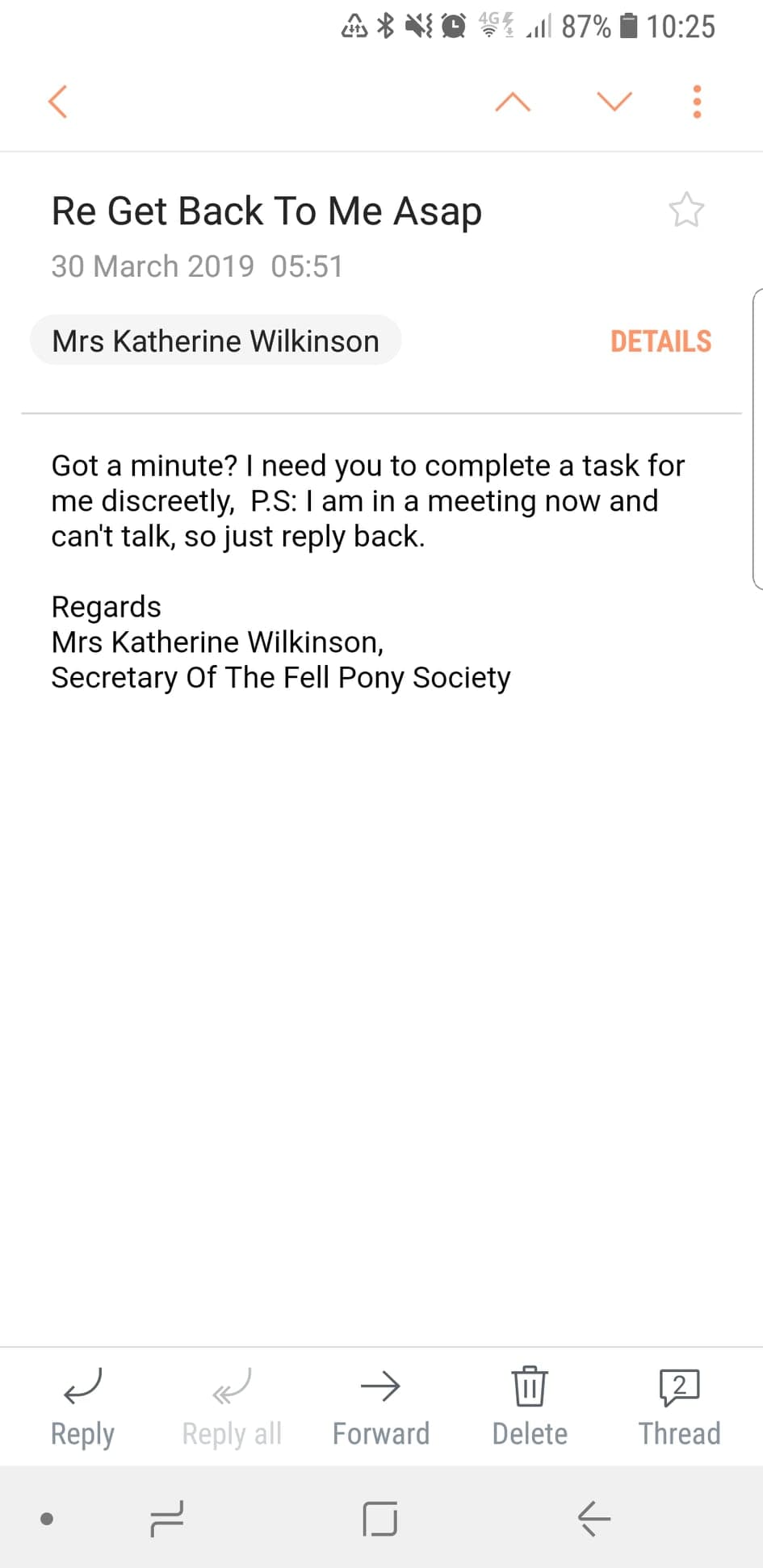 Don't open any attachments and don't respond to any requests to purchase goods on their behalf. 30 March 2019
Student survey on metabolic and exercise related disorders
Emma Sutton, 3rd year BSc Equine Science Student at Reaseheath College, is currently conducting an honours research project on the prevalence of metabolic and exercise related disorders in large breed native ponies competing across different disciplines.
The aims of the research are:
To establish the prevalence of metabolic disorders in British large breed native ponies.
To establish the prevalence of disorders linked to exercise intensity in British large breed native ponies.
To establish whether specific disciplines predispose British large breed native ponies to certain disorders.
She would be grateful for information which you can give by completing the survey, on this link: https://www.surveymonkey.co.uk/r/276C9RN
11 March 2019
Equine Flu Update - 1 March 2019: Unvaccinated horses attending shows / events
Throughout the current equine flu outbreak, the British Equestrian Federation (BEF) has continued to urge equine owners to ensure that their vaccination records are up to date.
The BEF has also strongly recommended that all competition and event organisers check the equine ID passports of all horses to ensure that they comply with vaccination rules.
This is based on advice from experts in equine influenza and epidemiology with experience of managing previous outbreaks.
The BEF reminds organisers that, during the current outbreak, it is vital that unvaccinated horses do not mix with other horses because of the increased risk of such an infectious disease spreading. It is important that organisers and owners recognise that equine welfare is a priority and take steps to prevent the further spread of equine flu.
There is more guidance available on the BEF website and in our Q&A - https://bef.co.uk/News-Detail.aspx?news=bef-advice-to-organisers
Equine Flu Update - 1 March 2019 - Foal influenza vaccination
The British Equestrian Federation (BEF) continues to monitor the outbreak of Equine Influenza (EI) and continues to urge all equine owners to make sure their vaccination records are up to date.
The BEF has also issued the following advice to try to maximise the immunity of young foals against EI.
1. We urge all owners to adhere to strict biosecurity protocols at all times.
2. Vaccinations are subject to local risk assessments by the attending veterinarians.
3. In-foal mares that have already had vaccinations of primary EI course should be vaccinated 4-6 weeks before the foal is due to be born.
4. Foals should be vaccinated for EI at 6 months to commence their primary course.
4 March 2019
Breeders' Day at Stallion AI, Twemlows, Shropshire, on Sunday 24th March 2019 - Cleveland Bay Horse Society
£15.50 inc. lunch - the CBHS would be delighted if members and friends would like to join in. (See the poster here.) Payment can be made by cheque or by PayPal (via the Cleveland Bay website), and a place can be booked by contacting Sian Evans via email cbhsbreed@gmail.com or by telephone, 07773882745.
4 March 2019
BEF guidance following outbreak of equine influenza:
https://www.bef.co.uk/News-Detail.aspx?news=equine-flu-outbreak
We recommend that all owners follow the guidelines given, as a precaution, and ensure that all vaccinations are fully up to date. If your horse is currently vaccinated, we recommend a booster if it has been longer than 6 months since your horse's last vaccination.
Actions for owners to take:
It is crucial for all horse and pony owners to be vigilant and follow recommended guidelines on how to detect and prevent the spread of this infectious disease.
Look out for signs of disease which can include high temperature, cough, snotty nose, enlarged glands (under the lower jaw), swollen or sore eyes, depression, loss of appetite and swelling in the lower legs.
If you see any of these signs, isolate the horse and call your vet immediately.
It is essential that any horses showing signs of possible equine flu, or horses that might have been in contact with possibly infected horses, do not travel to competitions or other events where there will be groups of horses. If your horse has been in contact with an infected horse we suggest that you should take immediate veterinary advice.
20 February 2019
Photographers required
Photographers required for the FPS Stallion & Colt Show, Sat 11 May 2019 and FPS Breed Show, Sun 4 August 2019.
1 for Stallion Show, 2 + for Breed Show.
Ideally will have the ability to produce photos on the day, must have own tent etc. and offer prints online.
Apply to the Show Secretary by email -- fpsshowsecretary@hotmail.com -- by 20 February.
6 February 2019
Membership is due for renewal
Membership is due for renewal on 1 January each year. If you have not already done so please send your payment as soon as possible. If you would like to pay by Standing Order please contact the office for a mandate, or for the bank details if you wish to set the standing order up yourself.
No member will be entitled to vote for the election of Council if their subscription has not been paid by 15 February of the current year.
Also if you have not already returned the UPDATED membership form issued with the Autumn magazine please return it as soon as possible to enable the Society records to be up to date (irrespective of how and when you pay - this is to comply with GDPR).
All Bank transfers should be in English pounds sterling – any charges should be paid in the country of origin.
Also, our bank makes a charge for the receipt of an electronic transfer from overseas – please add £2 for transactions up to £100 and £7 for transactions greater than £100.
4 February 2019
Student questionnaire re weaning
We've been asked to share this questionnaire from a final year degree student at Warwickshire college: if you have time please give it a go!
"...as part of my qualification I need to undertake research within the equine sector. I have chosen to look at the factors which influence a commercial stud's choice of weaning method.
This is the link to the questionnaire; it should take about 5 minutes to complete.
https://goo.gl/forms/D9q2WV3on9hYn8p23
Thank you for taking the time to read this,
Alice Evans."
29 January 2019
Outcome of Disciplinary & Complaints Committee hearing 13 November 2018.

Following complaints received regarding the use of false tail/hair extensions on a Fell pony exhibited at HOYS on 3 October 2018, the FPS Disciplinary Committee discussed the complaint and agreed the following penalties to the owner as a FPS member, as per the Society's Complaints and Disciplinary procedure:
f) to suspend from entering or exhibiting at FPS Shows and
g) the pony is also banned from FPS shows whilst under the same ownership.
In addition the Committee will:
i) recommend to Council demotion off the Judges' panel.
Council agreed on 8 January 2019 that the owner should be demoted off the FPS Judges' panel with immediate effect.
29 January 2019
Search | About Fell Ponies | About the Society | Society News! | Membership |
Events Calendar | Show Results | Newsletters |
Area Support Groups | International Affiliates | Member directory |
Sales List | Merchandise Sales | Stallion Listings |
Education | People & Ponies | Photo Gallery | Awards |
Regulations | Forms & documents | Registration Fees |
Showing Rules | Judging Guidelines |
Contacting Us | Privacy Policy (GDPR) | FPS Home Page |