The Fell Pony Society
The Fell Pony Society's aim is to foster and keep pure the old breed of pony which has roamed the northern fells for years and to circulate knowledge and general information about the pony breed.
The Society deals with the Registration of Ponies, applications for Membership and export matters. It produces two Magazines per year, lists of ponies for sale and a regular calendar of events.
SOCIETY OFFICE ADDRESS
The Secretary is back working in the office, Monday to Thursday. Visitors will be seen strictly by appointment and must wear a face covering and observe social distancing when in the office.
Thank you.
Katherine.
Bank House, Boroughgate, Appleby, Cumbria CA16 6XF.
Office E-mail: secretary@fellponysociety.org.uk
Temporary email is also still active: secretaryfellponysociety@gmail.com
Tel/Fax: 0 17683 53100.
The office is manned Monday to Thursday. You can leave a voice message or send an email to secretary@fellponysociety.org.uk if the Secretary is unavailable. Visitors will only be seen by appointment.
Payments to the Society can be made by post, BACS or bank transfer. Cheques or postal orders should be made payable to "The Fell Pony Society". BACS details here. All Bank transfers should be in English pounds sterling and any charges should be paid in the country of origin.
Also, our bank makes a charge for the receipt of an electronic transfer from overseas – please add £2 for transactions up to £100 and £7 for transactions greater than £100. The Society does not have the facility to take card payments.
If you wish to pay your membership by Standing Order, please request a mandate to set the payment up with your bank, because the Society cannot do it on your behalf.
Updated 14 October 2021
Full details of News items can be found on the News Page
NEWS HEADLINES
December Reminders
1) Foal registrations received during December are double fees. Forms received after 31 December are treated as late registrations and may require DNA parentage testing.
2) All 2021 coverings must be notified by 31 December 2021. Stallion service books and online certificates must be received by 31 December.
3) All memberships are due for renewal 1 January, irrespective of when membership was taken out, unless joined in the last few weeks.
4) if you pay your membership by standing order and haven't updated it to the new rates, please do so before 1 January.
5) The office will be closed from 23 December and re-open on Tuesday 4 January 2022.
Merry Christmas and A Happy New Year
FPS 2022 Centenary Calendars still available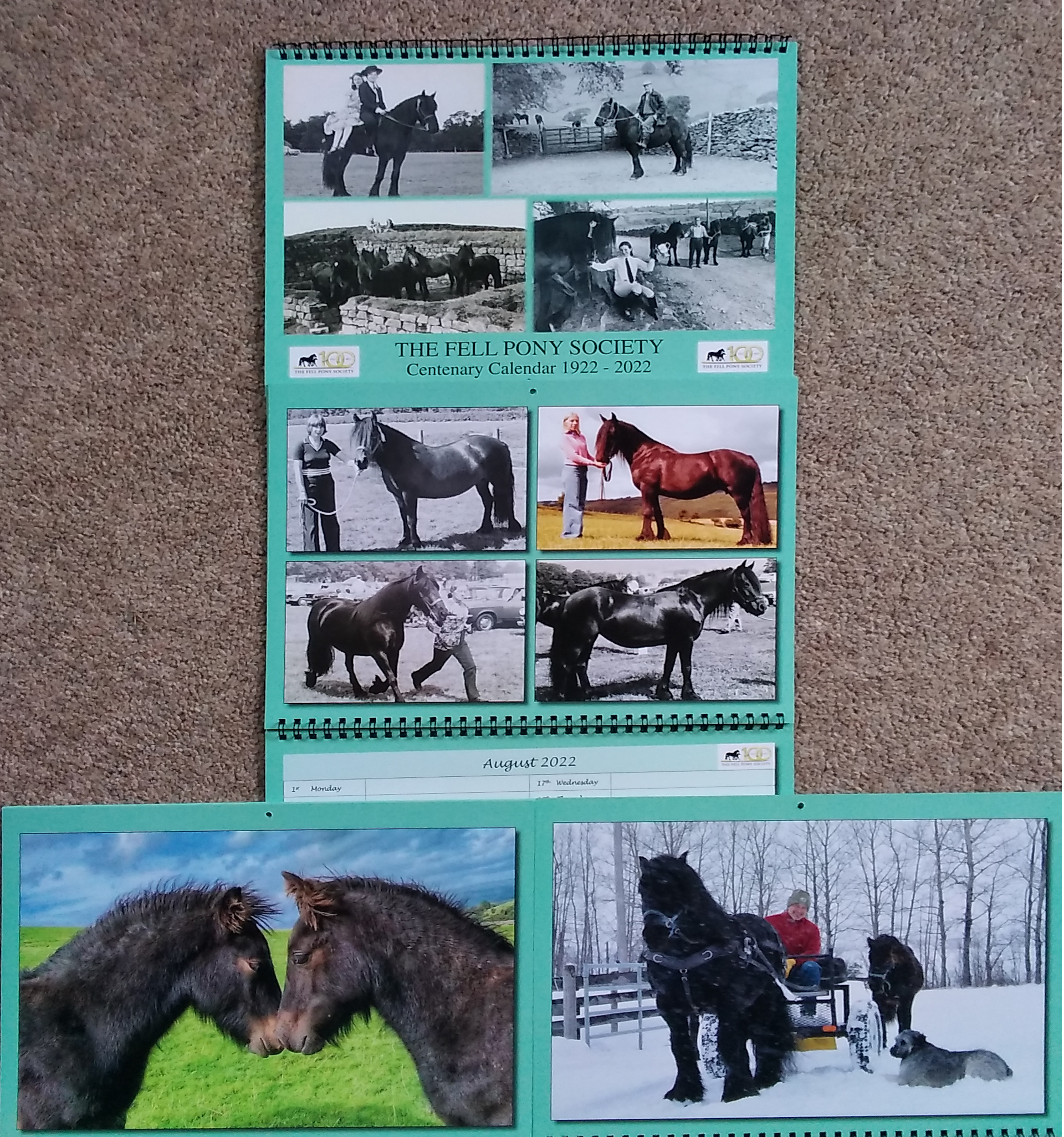 £6.00 plus £2.00 p & p. 16 Dec 2021
DEFRA Updates Animal Health Regulation (AHR) Frequently Asked Questions
The new AHR Export Health Certificates (EHCs) will need to be used from 15 January 2022. More >>> 28 Sept 2021
Launch of the new Grassroots Online Registry
The new look Grassroots Online Registry replaces the old Pedeweb. More >>> 14 October 2021
Changes to Animal Health Certificates for Export
The EU is making changes to its laws through the EU Animal Health Regulations (AHR). The AHR mean that the Export Health Certificates (EHCs) used to export equines to the EU, and move them to Northern Ireland, will be changing from 21st August 2021. More >>> 6 August 2021
Important information for all who export live animals to the EU.
Animal Health Regulations (2021) (6 July 2021)
Enquiries from EU owners and breeders
Please contact the FPS office by email, if you have any queries regarding the issue and updating of passports for Fell Ponies in the EU.

The FPS can continue to issue Stallion Licences for Fell Ponies in the EU.
Thanks
Katherine
14 Sept 2021
Agenda for FPS Council meeting
Agenda

(this is an active link only when a Council meeting is due)
Equine Passports
What to do when you buy or sell a pony, geld a colt or stallion, or a pony dies. More >>>
1 - When you purchase a Pony
Paperwork to check when purchasing. More >>>
2 - While you are an Owner
IMPORTANT: Please read about your passport responsibilities! More >>>
3 - Death of a Pony
You MUST return the passport to the FPS office. More >>>
4 -
Compulsory Microchipping
With effect from 1 October 2020 it will be a legal requirement for all horses in England to be microchipped (this applies in Wales from 12 February 2021 and in Scotland from 28 March 2021).
When your vet implants a chip for the first time, the barcode label should be placed in the passport with the stamp and signature of the vet beside. The owner should send either the passport or a scanned copy of the passport to the Society as soon as possible so that the records can be updated.
Updated 4 July 2018
Fell Pony Stud Book - Grassroots
To access animal details, member details, pedigrees and progeny lists via the Grassroots database, log in using the link below, with your access number (not your membership number) and password, as notified to members since Spring 2009. This service is free to Society members.
Grassroots database original link >>>
Alternative link (if the original link has changed for you): Grassroots 2021 >>>
MENU