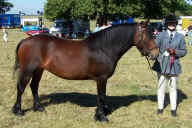 Reserve Supreme Champion
Fell Pony Society
Southern Show
Sunday, 14 September 2003
---
Report
Sunday 14th September: what a glorious, sunny day. As I left the showground at 6.30 p.m. the thermometer in my car read 26ºC! The Ambulance service spent the day sunning themselves and they were more likely to have to deal with sunburn than anything! The only first aid needed was a dab of greenoils on a pony on arrival. That's what we like!
We had the usual happy show (for all but five minutes) and I thank those people who came to say what a lovely day they had had. Organising and running the show is hard work and those few words of thanks make all the difference to those few people who have spent 12 months preparing the day.
Judges this year were Barry Mallinson (ring 1), Beverley Hodgson (ring 2), David Sykes (ring 3), Elaine Kind (WHP), Hugh and Elisabeth Marshall (young handler and Handy Pony) and Mary Longsdon (driving). They all worked extremely hard to accommodate those people who had entered classes that clashed with each other and maintained the smiles on their faces. Our sincere thanks go to them.
Our stewards did an excellent job as usual, and we were in the unusual situation of having a surplus of stewards, since Elaine brought her own. Thank you to those wonderful stewards. Christine Walker did the commentary brilliantly and there were no complaints of not being able to hear. We also have all those people who work behind the scenes, without whom the show would grind to a halt: thank you, you know who you are!
We were again pleased to see Sir John Miller at the show for most of the day and were glad that he was able to present the lovely painting to the Supreme Champion, Lathomdale Crystal. We are indebted to Sir John for his generosity in allowing us to use his park: it is a truly beautiful setting and it may be a long way to the toilets, but the bonus of seeing his "back garden" makes it a very worthwhile trip.
Finally, the show would not be possible without the 64 sponsors: thank you so much. If anybody would like to sponsor a class for 2004, Mary Longsdon will gladly take £10 (or multiples thereof) from you! Schedules for next years show will be sent to all competitors who entered this year and last and will be available on receipt of a stamped, addressed C5 envelope after the end of April.
---
Results:
Supreme Champion
Lathomdale Crystal
Mrs C Ross-Thompson
Reserve
Wolds Laverock
Miss J Glass
In Hand Champion
Shirdleyhill Tara
Mrs J Hill
Reserve
Wolds Laverock
Miss J Glass
Ridden Champion
Lathomdale Crystal
Reserve
Inglegarth Celebrity
Miss A. L. Ravenscroft
Youngstock Champion
Wolds Laverock
Miss J Glass
Reserve
Midtown Moment of Madness
Mrs A Norman
WHP Champion
Underwoods Emperor
Mr & Mrs C Jones
Reserve
Underwoods Fortune
Mrs C Ross-Thompson
Points Champion
Wolds Black Grouse
Miss J Glass
Reserve
In hand turnout
Sleddale John II
Mr & Mrs D Patterson & Miss J Patterson
Reserve
Wellbrow Carmen
Mr & Mrs A Thorpe
Ridden turnout
Lathomdale Crystal
Mrs C Ross Thompson
Reserve
Wolds Storm Petrel
Mrs L Brooks
Childrens Ridden Champion
Inglegarth Celebrity
Miss A. L. Ravenscroft
Reserve
Drybarrows Jill
Mr and Mrs A Thorpe
Driving
Windybank Duke's Rose
Mrs E Marshall
Shepparton Versatility Challenge
Owl's Lucky Surprise
Mr L Surgey
Best Bay or Brown
Meres Julie-Anne
Mrs D McGrail
Reserve
Wolds Laverock
Miss J Glass
Mare Champion
Meres Julie-Anne
Mrs D McGrail
Reserve
Shirdleyhill Tara
Mrs J Hill
Gelding Champion
Sleddale John
Mr & Mrs D & Miss J Paterson
Reserve
Underwoods Emperor
Mr & Mrs C Jones
Best non-black Fell
(ridden)
Drybarrows Jill
Mr and Mrs A Thorpe
[ Return to Fell Pony Society Show Results ]
---
This page last updated: 22 January 2008
© 2003 by The Fell Pony Society and Naked Essence Web Designs