Fell Pony Society Sizergh Fell Pony Show
29th June 2002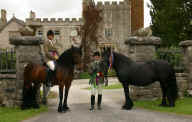 Overall Reserve Lunesdale Honey & Overall Champion Tarnbeck Sheba
Photo courtesy of Ken Ettridge.
With Sizergh Castle in the background, the new venue for the Fell Pony show proved to be a great success. A good flat field with good solid ground - an excellent venue, by kind permission of the Strickland Family and the National Trust. Approximately 60 competitors took part, and the classes well filled. Remarkably, the rain held off although the weather was dull - not bad for Cumbria! Sadly, there were not enough entrants to hold the traditional bareback trotting race. The informal atmosphere added to the overall enjoyment of all who attended.
In Hand Classes
Judge: Miss D. Chadwick

Geld Mare 4 years old and over
1st
Greenholme Kitty
Williamson Family
2nd
Hardendale Heather
Mr B Mallinson
3rd
Lunesdale White Heather
Mr N Wooley
Gelding 4 years and over
1st
Baronshill Bailey
Mrs L Thompson
2nd
Heltondale Bellman III
Ms Angela Downing
3rd
Wansfell Jason
Miss A Foy
Veteran Mare or gelding 15 years or over
1st
Tarnbeck Sheba
Williamson Family
2nd
Sleddale Lulu
Miss C Simpson
3rd
Waverhead Andrew
Ms Jenny Harris
Brood Mare 4 years or over, in foal or with foal at foot.
1st
Tarnbeck Shadow
Williamson Family
2nd
Murthwaite May Queen
Mr M Rawlinson
3rd
Heltondale Lil III
Mr J B Smith
Foal
1st
Tarnbeck Sovereign
Williamson Family
2nd
Thornbeck Samson
Mr M Rawlinson
3rd
Aukside Danny Boy
Mr J B Smith
Yearling colt filly or gelding
1st
Lunesdale Shamrock
Mr N Woolley
2nd
Baronshill Breezer
Mrs L Thompson
3rd
Kerbeck Night Gypsy
Mrs C H Robinson
Two year old filly or gelding
1st
Townend Herbie
F & D Carradus
2nd
Hardendale Heather Bell
Mr B Mallinson
3rd
Townend Candytuft II
A & E D Ashcroft
Three year old filly or gelding
1st
Farleton Phoebe
Miss C Simpson ?
2nd
Lunesdale Stardust
Mr M Rawlinson
Young Handler
1st
Sleddale Lulu
Rosemary Wilson
2nd
Heltondale Bellman
Jack Downing
3rd
Heltondale Emma
Emma Woodruff

In Hand Champion

Tarnbeck Sheba



In Hand Reserve

Townend Herbie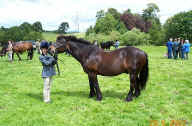 Young Competitor at Sizergh Fell Pony Show 29 June 2002
Ridden Classes
Judge: Mrs. P Randell `
Best Turned Out Pony and Rider
1st
Lunesdale White Heather
Jessica Woolley
2nd
Sunnybrowe Duke
Mrs G Chippendale
3rd
Springtghyll Raven II
Lucy Roberts
Mares 4 years and over
1st
Lunesdale Honey
Mr P Metcalf
2nd
Greenholme Kitty
Williamson Family
3rd
Lunesdale Mountain Princess
Emma Woolley
Geldings 4 years and over
1st
Lunesdale Rowan Mr
P Metcalf
2nd
Lunesdale Henry
Mr P Metcalf
3rd
Baronshill Bailey
Mrs L Thompson
Ridden Pairs
1st
Sleddale David
Kerbeck Solar Fire
Mrs G M Callister
Ms G Wilson
2nd
Greenholme Kitty
Tarnbeck Sheba
Williamson Family
Williamson Family
3rd
Lunesdale Henry
Lunesdale Honey
Mr P Metcalf
Mr P Metcalf


Ridden Pairs Class Winners:
Sleddale David Mrs G M Callister &
Kerbeck Solar Fire Ms G Wilson



Ridden Champion

Lunesdale Honey



Ridden Reserve

Greenholme Kitty


Overall Reserve Lunesdale Honey
Photo courtesy of Ken Ettridge.

Overall Champion

Tarnbeck Sheba



Left (Brown) Overall Reserve Lunesdale Honey
Right (Black) Overall Champion Tarnbeck Sheba
Photo courtesy of Ken Ettridge.

Overall Reserve

Lunesdale Honey



Veteran Points

Tarnbeck Sheba

---
[ Return to Fell Pony Society Show Results ]
---
This page last updated: 22 Jan 2008
© 2002 by The Fell Pony Society and Naked Essence Web Designs