Saturday, 20 May 2000
Dalemain, Ullswater, Penrith, Cumbria
Judge: Miss J Brindley
Judge Miss J Brindley (on the left)
and her Steward for the day.

Heltondale Roamer II
---
Registered Yearling Colt. (14 entries)
Heltondale Roamer II
(s. Tebay Campbell Ton Victor, d. Heltondale Bonny III)

Townend Rolo
(s. Drybarrows Jeff, d. Townend Truffle II)

Waverhead Model IV
(s. Lownthwaite Gary, d. Waverhead Pearl)

Murthwaite Look at Me
(s. Heltondale Bobby, d. Greenholme Jess)

Townend Donny II
(s. Drybarrows Jeff, d. Townend Dinky III)

Sleddale Bellman
(s. Heltondale Bellman V, d. Sleddale Rose XIII)
Registered Two Year Old Colts. (5 entries)
Castle Hill Jerry
(s. Lunesdale Jerry, d. Heltondale Lotty)

Rundales Eddy
(s. Drybarrows Rusty, d. Wansfell Amy)

Tunstall Jake
(s. Heltondale Bracken, d. Tunstall Beauty IV)

Lunesdale Squire
(s. Lunesdale Henry, d. Rackwood Queenie)

Wellbrow Raider
(s. Heltondale Norman, d. Heltondale Heather II)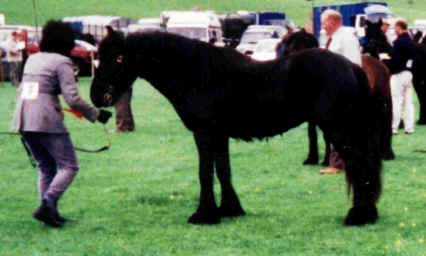 Castle Hill Jerry
He is in the line up after the final placings were decided. In the background you can see a brown pony being held by a person wearing a red tie - this is Rundales Eddy.
---
Youngstock Champion
Castle Hill Jerry
---
Youngstock Reserve
Rundales Eddy
---
Registered & Licensed Stallions Three and Four Years Old.
(7 entries)
Murthwaite Bross
(s. Heltondale Bross, d. Heltondale Dainty VI)

Wellbrow Leo
(s. Tebay Campbell Ton Victor, d. Heltondale Polly Perkins IV)

Castle Hill Prince
(s. Lunesdale Jerry, d. Heltondale Lotty)

Underwoods Gideon
(s. Border Black Prince, d. Cherryhall Heather)

Stennerskeugh Bert
(s. Heltondale Norman, d. Stennerskeugh Clara)

Peepings Enterprise
(s. Lownthwaite Stardust, d. Peepings Wild Rose)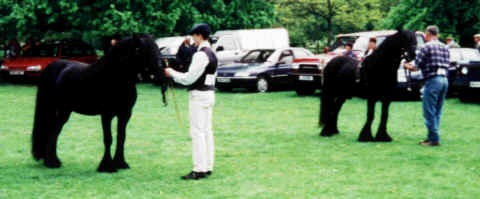 Wellbrow Leo (left) & Murthwaite Bross (right)
They are in the final line up in the ring.
---
Registered & Licensed Stallions Five to Eleven Years Old.
(6 entries)
Rackwood Robin
(s. Whinbush Robin, d. Rackwood Dewdrop)

Heltondale Mountain Mist II
(s. Heltondale Black Diamond II, d. Heltondale Rosie VIII)

Heltondale Norman
(s. Tebay Vespa, d. Tebay Cloud)

Lownthwaite Gary
(s. Heltondale Duke IV, d. Lownthwaite Current)

Heltondale Rob II
(s. Heltondale Rover, d. Baronshill Duchess)

Greenhead Alfred
(s. Greenhead Peter, d. Greenhead Tess)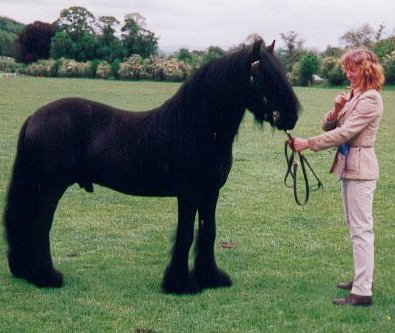 Heltondale Mountain Mist II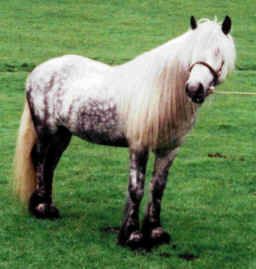 Heltondale Norman
---
Registered & Licensed Stallions Twelve Years and Over.
(4 entries)
Waverhead Prince II
(s. Greenholme Geoff, d. Waverhead Magic)

Lunesdale Henry
(s. Lunesdale Jerry, d. Adamthwaite Sandra II)

Townend Flash VI
(s. Waverhead Rambler, d. Townend Polly VI)

Ferrymount Timothy
(s. Waverhead Model, d. Gibside Polly)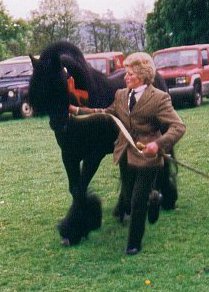 Waverhead Prince II being run out after his class had finished
---
Registered Stallions Four Years and Over
to be Shown under Saddle (3 entries)
Heltondale Rob II

Peepings Enterprise

Rackwood Robin
---
Supreme Champion
Waverhead Prince II
---
Reserve Supreme Champion
Rackwood Robin
---
[ Return to Fell Pony Society Show Results ]
---
This page last updated: 22 January 2008
© 2000 by The Fell Pony Society and Naked Essence Web Designs