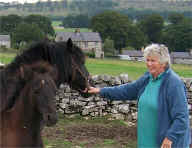 Mary Longsdon MBE
The Fell Pony Society is delighted with the news that our Chairman, Mary Longsdon, has been awarded an MBE in the New Years Honours List, for services to The Fell Pony Society.
Mary has been a member of the Society for over forty years and has competed to the highest standards in riding, driving and in hand showing; she registered her prefix 'Bewcastle' on 1966 and has bred quality ponies and she is a senior international judge of high repute. She was first elected to Council in 1986 and has been re-elected each time her period of office came to an end. She was elected by Council to be our Chairman in April 2003 and has been re-elected annually since then. She is a strong Chairman, without being confrontational, and gives wise guidance, always maintaining a keen sense of humour. She has been punctilious in her attendance of meetings, despite the significant distances involved and has represented the Society at many events across the country and in its dealings with organisations such as the BHS, NPS, RBST, Defra etc. She has helped to steer the Society through some challenging times, always diplomatic, but not afraid to face difficult issues.
Although currently resident in Derbyshire, she has close family connections with the Lake District and is keen to support the native pony breed and the hill farmers who struggle to continue with the few semi-feral herds in their natural habitat, thus keeping the ponies' hardy characteristics. On a wider view, she is keen to encourage the growing number of owners and breeders in Europe and North America, and was the instigator of our Area Support Groups in this country. She chaired the 'new' Southern Breed Show, now in its 19th year, and encouraged other shows at Dunster and Sandringham, plus a new one at Bakewell last year, and helped steer the Society towards becoming a Registered Charity in 2004.
She is truly dedicated to the survival of the Fell Pony and its native habitat, working tremendously hard with boundless energy, and is very deserving of the honour awarded to her.
200701