Profile - August 2005
Walter Lloyd - Founder of Hades Hill Fell Ponies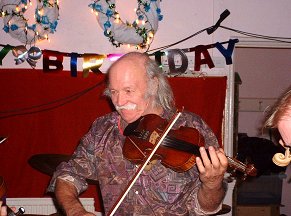 Walter Lloyd is a long standing Member of The Fell Pony Society and a great enthusiast of the Fell Pony. He is one of life's "characters", very well educated, extremely interesting to talk to and a thoroughly nice person. He is also a talented musician. What more can I say, except that I am honoured to be counted as one of his many friends and to write this article! The picture at left was taken at his 80th Birthday Bash, where he outstayed and outplayed all of us!
Walter's love of equines is not really surprising as he has come from a long line of horsemen. His Great Grandfather rode all around Europe as well as Britain. His Grandfather hunted, and survived the York and Ainsty Hunting disaster (where his Grandfather's cousins drowned), simply because his horse had a loose shoe! Walter's Father served in the British Army, in France, in one of the mounted regiments and to this day Walter still has the bridle that he used!

Walter's own involvement started at the tender age of 8 or 9 years when he had a donkey. As a boy, in Cornwall, he also spent a lot of time with the "heavy" farm horses. He commenced farming at Duckworth Farm, in Lancashire in 1949 and a part of the un-enclosed common land at Duckworth Farm was named Hades (rhymes with shades) Hill, hence the Hades Hill prefix which was to follow soon.
The purchase of two in foal mares from "Sarge" Noble was the start of the Hades Hill ponies and in 1959 the mares ran with Packway Royal at the Society's enclosure at Coniston. The purchase of a colt, Heltondale Lucifer, and more Heltondale mares followed. One of the mares had a good black colt, Hades Hill Delta, which Walter kept as a stallion until it was stolen in 1972. He then used home bred stallions until the purchase of Sleddale Bertie.
Walter has always used his Fell Ponies for a variety of jobs. At one time he used them with a traditional pack saddle consisting of two arches joined underneath with old barrel staves and padded. He still owns two original ones that are at present on loan to the Shibden Hall Museum in Halifax. They were used on the hill farms to take out manure and lime in wooden boxes with a hinged bottom slung on either side.
Nowadays, Walter and one of his sons, Tom, still use their Fell ponies to pull a traditional "Bow top" living wagon to the famous Annual Appleby Fair. One pony is in the shafts with a "sideliner" on a single trace on the offside. The annual journey is made over several days, stopping and tethering the ponies on roadside verges en route. Some of the local inns on this route are no strangers to Walter and Tom and their " musical evenings"!
Tom Lloyd is carrying on the Hades Hill breeding programme and currently has seven mares running on enclosed Fell land in the South Lake District.
Carole Morland.