Profile - August 2003
The Woolleys - How Fell ponies can change lives!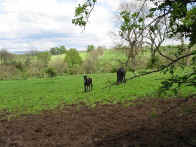 Lunesdale Gypsy Rose
(brood mare) with son Littletree Bodini
at the Woolley's Littletree Stud
at Great Asby, Cumbria
After more than 30 years competing in Showing, Jumping and Eventing, Nick and Jane Woolley, a young married couple living in Cheshire with their two young daughters, became increasingly disillusioned and fancied a complete change. After some thought they realised that a Fell pony might just be what they as a family were looking for. Something that their daughters Emma (aged 13) and Jessica (aged 8) could ride and something that Jane could also ride and show in hand and something that Nick could perhaps drive and show in hand. In fact an all round family pony!
They did their homework and tentatively rung Bert Morland at the Lunesdale Stud to ask what he had in the way of youngstock. They had in mind a young colt and when they set off from Cheshire up to Cumbria to the Lunesdale Stud to view a yearling colt, called Lunesdale Major, they had absolutely no idea how their lives were to be completely changed!
They fell in love with Major and his fantastic action and were more than a little pleasantly surprised when, after the deal had been done and Major loaded on to their lorry, Bert said " if you don't like him in a month from now, bring him back and I'll refund your money!" This way of thinking was a breath of fresh air after the world they had been competing in!
Major thrived and was shown in hand with some success and the Woolley's by now had joined the merry band of people who were totally in love with Fell ponies.
Major was still a way off being old enough to be broken to ride, and after visiting the Lunesdale Stud's "open day" the Woolley's appetite for Fells was well and truly whetted! So once again they set off for Cumbria with the idea of purchasing a filly or fillies of an age to be broken in. Jessica and Emma both suffered a case of "love at first sight" which resulted in the purchase of the black filly, Lunesdale Mountain Princess and a grey filly, Lunesdale White Heather, both daughters of the well known stallion Lunesdale Mountain Mist.
The following summer, Emma, the Woolley's eldest daughter spent a holiday with the Morland's and decided that owning a Fell Pony stud was the life for her!!
To cut a long story short, this has resulted in the Woolley's selling their property in Cheshire, moving their business to their new farm in Cumbria and settling in to a whole new way of life!!
In addition to making new friends and buying several more mares which are to form the nucleus of their Littletree Stud, Jane has recently taken over the post of Secretary of the Fell Pony Breeder's Association.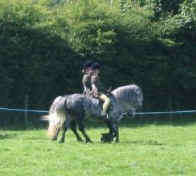 Lunesdale White Heather and
Lunesdale Mountain Heather (both
daughters of Lunesdale Mountain Mist)
taking part in the pairs competition.
Have they regretted their decision? Well their success and popularity says NOT!! Nick ruefully admits his pockets and heart is lighter but the family enjoy their Fells more than they have enjoyed anything else together.
Since their incursion to Cumbria and the Fell Pony life their stud now numbers 10 ponies and their successes include Male Champion FPS Breed Show 2000, 1st Royal Welsh, Supreme Champion Lancashire & Welsh pony & Cob Assoc., Champion Northern Horse Show, 1st ridden fells Ponies (UK) Champion North East of England Show, Kingsford Novice Champion Ponies UK 2002, Champion Ridden FPS Breed Show 2002, Junior Ridden Champion FPS Breed Show 2003