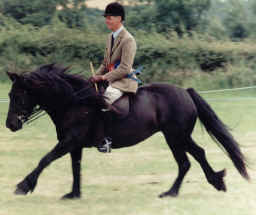 Linnel Candytuft
d. Linnel Connies, s. Linnel Reynard
1999 by Morris Photography Ltd,
Alnwick, Northumerland. Tel: 01665 577151
Profile November 2000
Bob Charlton
Born: Robert Blackett Charlton, 28 February 1938, Corbridge, Northumberland.
Lives: Linnel Wood, Hexham, Northumberland.
Wife: Sarah
Children: Venetia, 31. Ralph, 28. Jenny, 13. Lucie, 11.
Bob is the fourth generation of Charltons to be involved with Fell ponies and The Linnels. Except for two years National Service and one year traveling the Americas he has lived either at Linnel Wood or The Linnels, Northumberland, all his life. Bob farms 250 acres of less favoured permanent grass land carrying 620 mule ewes, and manages the rest of his small estate; which is let, or woodland.
Bob is the present Chairman of The Fell Pony Society Council; elected by your council members.
His formative days were influenced greatly by his father, grandfather and great-grandfather, all R. B. Charltons (just to confuse you, and all involved with The Fell Pony). Bob showed ponies for his father and grandfather from a very early age. During the 1950's as a teenager, he swept the board in ridden classes at The NPS Shows, Ponies of Britain, and The Royal, on his father's ponies. Very probably competing against the present Vice Chairman of your council Mrs. Margaret Raines!
Fell ponies were left behind for a while after this. Running the Family Engineering Business in Newcastle, plus a new family with no interest in Fell Ponies.
During this time he spread his wings in other equine areas, hunting, point to pointing and eventing. The stories are too numerous to tell, but two warrant a mention. At the age of 26 having purchased a new hunter from Leictershire, he hacked to the meet one hunting day. He remembered no more of that day, after a near fatal accident lost him his eye and half his face. He had made the mistake of trying to jump the gap in the wall instead of the wall, and fell. He has never blamed the horse. It was after this that he qualified a horse for Burghley, having won at Fenton, sadly they had to withdraw 10 days before, the horse went lame! (That's horses). Hence, we now host and organise the British Horse Trials Association's Horse Trials at The Linnels, where Fell Ponies do all the stewarding work.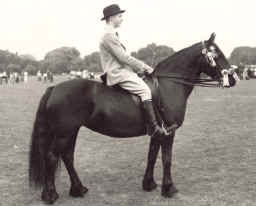 Linnel Flighty
s. Linnel Romany 11, d. Linnel Kathleen
Reserve Supreme Champion
at NPS Roehampton 1955
Photo by J.E.L. Mayes
His marriage to his second wife, Sarah, and her enthusiasm, caused him to turn the corner back to ponies. With her encouragement he became District Commissioner of the local Pony Club for five years, and MFH to the Haydon Foxhounds for four years. In 1989 when his father died, he inherited The Linnels Stud. One old stallion and one old mare, was all that was left from well over a hundred ponies 50 years before. Now in the year 2000; the stud has 25 ponies not including foals; and is back in business, with well over a hundred years of history, experience and influence to back it up. Bob's eye for a pony and his remarkable ability to climb on an unknown pony and ride and win, have always been amazing. He swept the board in the 1950's with the chance ride on Linnel Flighty at the NPS Show, when his sister had appendicitis, and picked up, many P to P rides and Event rides in later years. In 1994, 2 days before a major qualifier for Olympia with Linnel Mozart, Gwen Gibson, then groom at The Linnels said "What is the point – he has not ridden for months: he won his class and went on to be reserve champion. Even last year he took the chance ride on a pony of his wife's, Linnel Candytuft; they won a large class of 18 large M&M ponies, and then were overall M&M ridden champions, having only sat on the pony the day before. He is on The FPS Judges Panel and this year is a probationer judge for The NPS M&M Judges Panel.
Bob's forbears could never have imagined the problems that a Chairman of The Fell Pony Council would have to deal with in the new century. E U directives, Government Legislation, so called 'Green Movements' plus 'a syndrome'. All create an immense amount of work, the phone rings from 7.30am in the morning until after 10.00pm at night – they may vary from a major administration problem, to some dear person who just wants to tell him all about their marvelous Fell Pony! Exporting ponies, well that is not new. Linnels ponies have been exported all over the world since the 1920's. It is just the paper work that has changed!
Bob tries very hard to 'lend his ear' to all in the society. The members are all of varying opinions, and some are at each extreme of current opinions. His policy is to take a middle road where he can, while at the same time ensuring that correct and fair procedures are adhered to, and to keep the society moving forward together as one happy unit; to follow the guide lines of keeping and securing the prosperity of The Fell Pony of The Western Fells true to type and taking it on into the 21st century. Just as his forbears did at the beginning of the 20th century.
Bob would love to hear about you and your ponies by E-Mail or fax but please reserve your phone calls for urgent problems!